2017-18 Girls Varsity Swimming Preview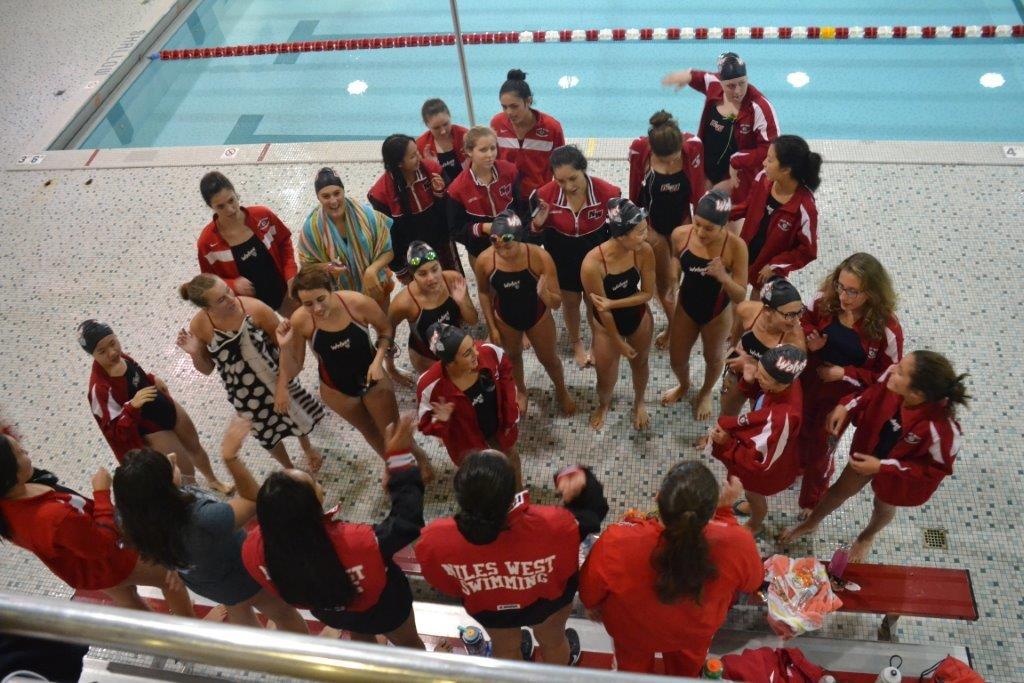 The Niles West varsity swim team is starting their season off with a splash. Following the success of their first meet, beating their opponents, Jones college prep and Von Steuben, the girls are looking to continue their season off strong.
New addition to the team, freshman Lian Fong during her first meet of the season, broke the fresh/soph record in the individual breastroke category. Being one of the fastest swimmers on the varsity team, Fong is hoping that by the end of the season she will be fast enough to qualify for the state meet by staying focused and with the support of teammates and coaches.
"My second individual race was something I couldn't even imagine. My goal was to race fast but I could have not imagined breaking the school's fresh/soph record for the 100yd breast stroke. After the race, I didn't know I broke the record until after my teammates started cheering 'Way to go Lian!' and when I saw coach Jason Macejak run over to make the announcement," Fong said.
Fong, along with teammates in the 200yd relay, were a second and a half seconds off the school's varsity record. Fong describes the feeling as fast, exciting and like nothing she has ever experienced before.
"I was determined to do my best for my first high school meet but also wanted everyone on the team to feel supported, so I was cheering everyone on. I wanted to start off the season on a good note. My first high school relay was so much fun. We ended up going a second and a half off the varsity school record," Fong said. "Our captains, Daniella Rodriguez, Jade Oribello and Katelin Avenir have been wonderful and great in leading our team and especially Katelin for being my 'big sister' and mentor. I look up to her so much and I'm grateful to be on the same team as her."
Senior captain and swim team veteran Avenir has a bitter-sweet feeling about this being her last season swimming for Niles West. In hopes of continuing to swim at a college level, Avenir must prove herself this year by performing better than she has ever before as well as staying a positive role model to her teammates.
"It came way too fast. Just last week I had my first last swim meet as a Niles West athlete. It is really sad to hear because I have been swimming all of my life. I hope to continue swimming in college but for this season, I really want to leave my mark on the swim team and be a good leader for the girls," Avenir said.
As the bond between the swimmers from all levels gets tighter, that will surely show and help all the girls exceed expectations.
"We have great group of hardworking girls this season. Since everyday we spend nearly five or six hours with each other on a daily basis, you need to have that type of bond where you can tell them everything and talk to them about everything. Especially because swimming takes a lot of mental stability and hard work it is one of the most important things that will either make or break a team. You are gonna have good days and bad days so I think with all of us being friends, it really encourages us to be the best athletes we can be," Avenir said.
Although the season is looking bright for the varsity squad, the JV team has some disadvantages that could be detrimental to their success this season. With only 6 swimmers this year on the junior varsity squad, junior Lexi Lee describes the difficulties having such a small team causes.
"Since there are only six swimmers at the JV level this year, it is going to be difficult for us because with less swimmers, we can't compete in as many of the events which makes it harder for us to win because less points can be scored for our team. Another struggle so far in the season is that a lot of us did not do off-season workouts which in the end really prepares you mentally and physically for the upcoming season. But, we are building back up our team in practice and hopefully it will be a good season for everyone because we have the work ethic and the determination to do well," Lee said.
On Friday, September 8, the girls will compete in their next meet at 5:30 pm. Make sure to support the girls as they take on Northside College Prep in their second home meet of the season.