2017-18 Girls Varsity Cross Country Preview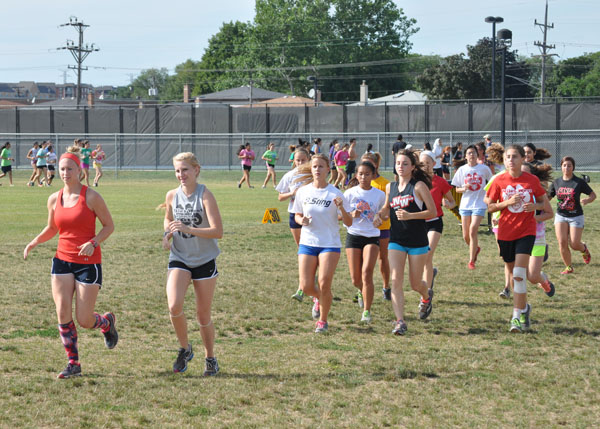 With the start of the school year comes not only the beginning of classes but the start of the fall seasonal sports as well. The girl's varsity cross country team has already started practicing, commencing even before school officially began for all students. This year, the team's determination to achieve all of the goals that they failed to attain is quite obvious.
A primary goal for the team this year is to qualify for sectionals, something that only two of the runners last year were able to accomplish. Along with qualifying for sectionals, the team is encouraging every runner to give all of their effort in order to decrease their times.
"As a team, we did not qualify for sectionals last year and only had two of our girls individually qualify," junior Angel Thomas said. "This year, it would be great to see us qualify as a team. In general, we want to be pushing our times and running to our full potential."
Along with training their bodies physically by giving their all during races, the girls have also been attempting to become prepared mentally by doing yoga and learning how to calm themselves before the beginning of a race.
"Physically, we're training hard every day to do well in our meets, but we've also prepped mentally, by doing some yoga after workouts or even just by learning how to relax ourselves before a race," senior and co-captain Rachel Cheuk said.
Another training technique that the runners are planning to do is to work within groups of similar ability to encourage each other to push themselves while running.
"I want the team to work together by running with their teammates who have the same times at meets," senior and co-captain Jessica Kalathil said. "I plan on asking the coaches to have us create groups within our workouts with people of our same abilities."
Though all of the girls have goals on what they hope the team will accomplish this year, they also have personal goals that include racing hard despite their pain and becoming mentally tougher throughout the races.
"Personally, I struggle with pushing myself during races," Thomas said. "Once I get a mile or two in, I start to feel the lactic acid in my legs building, my decreasing breath, and pain all over my body. Being mentally tough and pushing past the pain is difficult for me, but once I learn to do that, my times will decrease."
An advantage that the girls have this year is that they are seeing positive encouragement with each other that results in other runners pushing themselves in order to see decreasing running times.
"This season, we have strong runners who are doing really well," Cheuk said. "Everyone on our team encourages each other all the time, and we always help each other out. It helps motivate us and overall improve our times."
The next meet that the varsity girls will compete at will be the First to the Finish Invite on Saturday, Sept. 9 at Detweiller Park. Make sure to come and support the runners.