Students to Attend Workshops on Sept. 12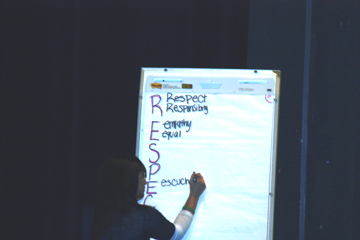 Niles West students will be attending presentations on Tues., Sept. 12 as part of a new anti-bullying and social awareness curriculum. The day of presentations will replace the Names Assembly used in previous years, which featured freshman students telling their classmates about experiences they had with bullying.
Each grade level will have their own presentation. Seniors will meet first period for a seminar on sexual misconduct and alcohol; freshmen will spend second period going over "cyber-civility," including sexting and social media etiquette; third period, juniors will learn about bullying, diversity, and inclusivity; and sophomores will attend a presentation on respectful relationships and dating violence during eighth period.
Assistant principal of operations Mark Rigby expressed his wish for students to get the most possible out of the event.
"The goal is always to expose students to conversations about things that are difficult for teenagers sometimes. We're going to talk about bullying; we're going to talk about sexting," Rigby said. "The presentations are tailored to each class, and the goal is to get kids to think about things that they're doing before they actually do them."
Many students had positive things to say about the format for the presentations.
"I really like how each grade is getting a presentation where the subject matter is tailored to them," senior Julia Gladysz said. "Especially for seniors, the 'sexual misconduct and alcohol' presentation is really timely as we prepare to go to college next year."
However, not everybody thinks that students retain what they learn at presentations.
"These assemblies are useless because they don't really impact anyone," senior Adam Patel said. "Even though there is a great message behind the presentations, students typically just blow past them and don't actually think about what they learn."
Presenter Katie Koestner, a student safety expert, will also be hosting a seminar for parents on Mon., Sept. 11 in the Niles West South Lobby at 6:30 p.m. The presentation, "Not My Kid: What Parents Need to Know about Bullying, Harassment, Cybersafety and Sexual Misconduct," aims to further parents education on how to facilitate conversations about sensitive subject matter with their teenagers.
Head coaches, co-curricular sponsors, and administrators will also be attending presentations on Monday. Koestner will be educating them on policy, procedure, protocol, and prevention (the four P's), as well as on determining appropriate boundaries with students and bullying behavior.
All student presentations will take place in the auditorium during their designated class period; there will not be a special bell-schedule for the day.