Irma's Impact Stretches from Florida to Niles West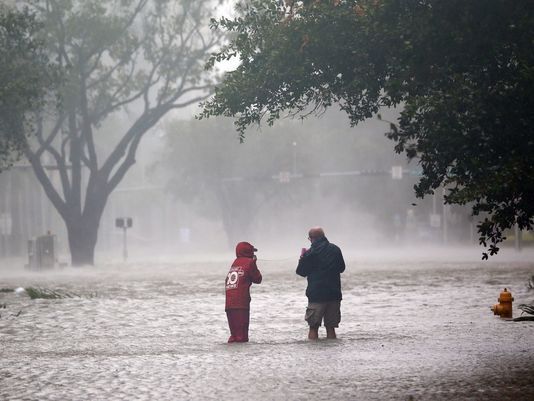 Following the horror of Hurricane Harvey just recently hitting the U.S., Hurricane Irma pelted Florida with another immediate devastation. The death toll from Hurricane Irma is at least 17 in the United States, and continued its path of destruction across the Caribbean and through the Southeast U.S. over the weekend. Irma left streets flooded and millions without power.
Niles West junior Divya Patel understands the extent of the danger and destruction involved, is especially worried because she has family in Florida affected by Irma's damages.
"I was very scared and terrified for my family. I have a lot of family in Florida, and then I found out it was going to hit Georgia. I also have family there, so I was a bigger mess. I pray every day and I added the people getting hit by the hurricane in my prayers," Patel said. "It was so devastating for me, but I am glad they are okay. Some of my family lost power, but they are all fine. I hope Florida recovers from this."
Patel, aware of the immensity of the damages, is trying to find ways that she and Niles West can help.
"I think we can have a donation type of thing in homeroom. Each grade level can do something different like, freshmen do food drives, sophomores do clothing drives, juniors and seniors donate money," Patel said. "I think this would truly help the victims. Florida can really use it. Texas can also use it, too. I don't think West has done anything to truly help, but we should. I think the homeroom donations would really help out."
Recent Niles West alum Jackie Bajric, now a freshman at the University of Miami in Florida,  gave an insight on what her situation was like.
"I didn't know the severity of the hurricane until I received a text from UMiami ENN [emergency notification network] saying that classes were cancelled for the rest of the week. They ended up having a mandatory evacuation last Friday. People that had nowhere to go were sent on buses to shelters," Bajric said. "It was scary. I have friends that live down there and not everyone could afford a plane ticket out since the prices were jacked up. It's a tragic time but I have no doubt that everything will go back to normal when classes start up again, hopefully on Monday."
According to a new estimate, Irma and Harvey combined will cost more than Hurricane Katrina did in 2005. There is also speculation that these storms were caused by climate change. A rise in sea temperature can be a factor in hurricane development. West held a blood drive and is sending donations in support of the American Red Cross to aid these devastations.