Krisiti Bliznakov: Dancing Since '06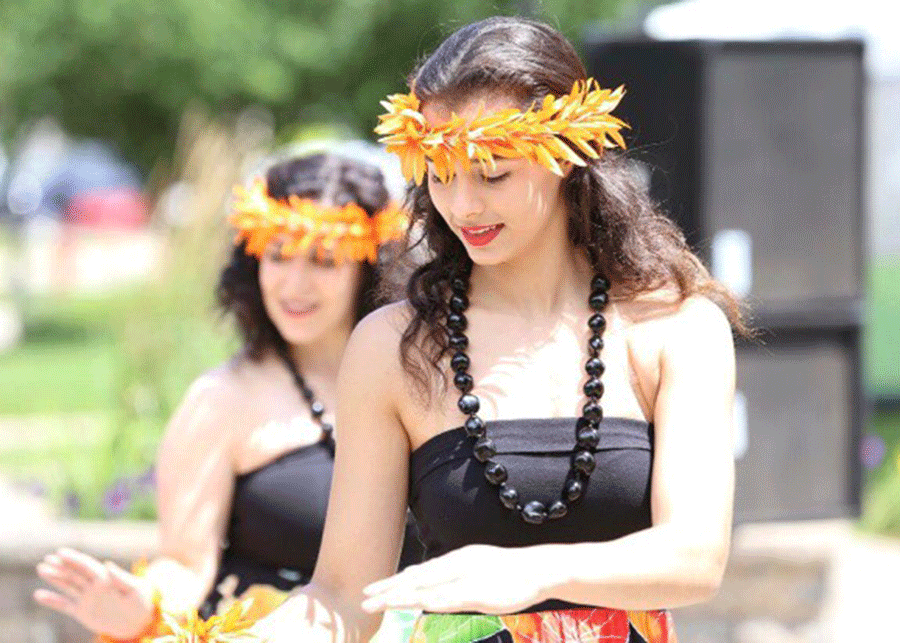 By Hannah Youkhana, Staff Writer
September 26, 2017
Ever since she was four years old, sophomore Kristi Bliznakov has been dancing. Bliznakov started learning the unique art of Hawaiian dance when she was in fourth grade. When eighth grade rolled around, she decided to channel her passion for dance by trying out for the cheer team at her middle school Parkview, and she couldn't be any happier with her decision.
"Hawaiian dance and cheer is my whole life. Both sports have given me the opportunity to meet so many different people, and create a strong support unit within both sports. I have met some of my closest friends in Hawaiian dance. Cheerleading has also had such a huge impact on my life," Bliznakov said.
Bliznakov came into her freshman year ready to try out for the Cheerleading team. Not only did she make the team, but she made varsity.
"Being a freshman on varsity was such a huge honor. I felt very proud of myself for being on such a high-level team. Although the workload was much harder than I experienced in eighth grade, I still loved showing up and cheering every day," Bliznakov said.
Hawaiian dance is a hard type of dance to learn. It takes discipline and lots of practice to get it right.
"My favorite part of Hawaiian dance is the performing aspect. I really enjoy being in front of an audience because it creates such a fun and happy environment for not just me to be around, but everyone else as well," Bliznakov said.
Bliznakov's varsity cheer coach here at Niles West, Francine Gutierrez, had nothing but great things to say. 
"Driven is the first word that comes to mind because she always wants to be the best – both individually and as a team. She has this drive to want to keep going even when practices get tough. She'll even stay positive when it's easy to be negative," Guitierrez said. "All of her qualities make her different from an average young athlete, but what really makes her different is her confidence— It is a healthy type of confidence, confidence that young girls and even older women can look up to."
Becoming co-captain of the varsity cheer team as a sophomore was a huge accomplishment for Bliznakov. She did not earn that title by just going through the motions, Bliznakov worked extremely hard for it.
"Kristi knows what she needs to improve on as an athlete, as a young captain, and as an individual.  She is so motivated to excel in all of these aspects. I know that she is motivated to get her back tuck in tumbling then on to the next skill, and the same goes with stunting, she wants to continue to grow and take the next step after she has completed the task," Guitierrez said.  "Kristi is not the type to settle, and that's one of the reasons I named her a captain. She is so eager to want to do more and learn more, that just shows me that her goals are endless and that her motivation to succeed does not stop at a certain point."
Bliznakov's work ethic does not go unnoticed by her teammates. Fellow teammate and best friend, sophomore Lili Youkhana, sees Bliznakov as a model athlete.
"Kristi is someone that never shy's away from trying new things. She is a great leader, teammate, co-captain, and friend. Her uniqueness sets her apart from others," Youkhana said. "I think it's awesome that she's able to do both Cheerleading and Hawaiian dance. Kristi is the type of friend that everyone needs in their life: trustworthy, outgoing, and loyal. "Everyday at practice she continues to prove her self more and more, she is a model to our younger teammates."
Even though Bliznakov has her hands full with cheer practice and Hawaiian dance, she is involved in other clubs here at Niles West as well.
"I am also involved in Dance Marathon Executive board and track. I do track during my offseason for cheer and I stick with Dance Marathon all year," Bliznakov said.
With good grades, a supportive team, and activities she enjoys doing, Bliznakov knows she has made all the right choices. She plans to stick with cheer and Hawaiian dance for the rest of high school and hopefully into her adult life as well.