Paying for College: Scholarships Available for Seniors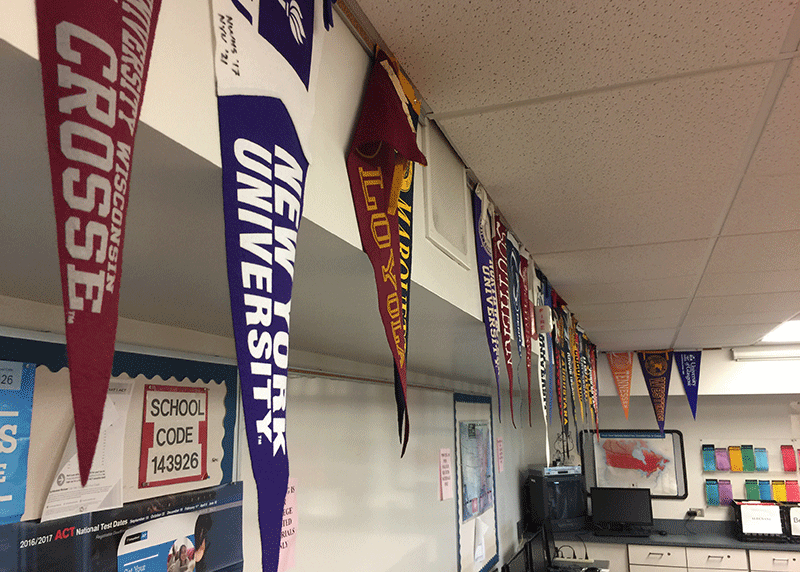 As if the stress of applying and getting into college isn't enough, figuring out how to pay for college is the next big step. Luckily, seniors planning to apply for college during the fall of 2018 have a variety of scholarship options available to them.
Counselor Stephanie Lau curates, organizes and handles the scholarships available to West students, and she encourages them to apply for the scholarships that colleges, corporations, and other entities have to offer. If students know where they want to go to college, Lau says that they should aim for scholarships directly from the source.
"The best source for scholarships are from the colleges you plan on applying to," Lau said. "They would go under their financial aid tab and look for the scholarships specific to that college or university. That's probably the best source."
Scholarships available to West students are posted on the Niles West scholarships website, which is constantly being updated. Seniors are also often informed of new scholarships by email.
"We publish our own scholarships [available only to West students], too. We put our own scholarships on Naviance. I also have a link set up which takes you directly to the college resource center," Lau said. "So whenever there are new scholarships that we think are worth applying to, then we post them on our site."
Many students plan on applying for a variety of scholarships due to the high costs of college.
"College costs money I can't afford," senior Zoha Ullah said. "There are so many scholarships for a lot of things, from being tall or for being a minority to scholarships for contests involving essays and class reviews. Either way, I plan to use that to my full advantage."
Other students are not worried about applying for their scholarships because they feel prepared.
"I'm not really worried about applying," senior Casey Pashup said. "I have a lot of resources available at the school, so the only real worry is making deadlines."
If students need help with applying to scholarships, they can speak with Lau or college and career counselor Daniel Gin.
"[Students] can go to Gin, their counselor, to me. I'm the one who find the scholarships, posts them on the site, and then tells Gin about them," Lau said.
Other available scholarships, listed in order of deadline, include:
The Horatio Alger Scholarship: Students who have demonstrated qualities of integrity and perseverance through overcoming challenges of adversity, strength of character, financial need, and have a commitment to pursuing a college education and contributing to their society are encouraged to apply. The application deadline is Wednesday, Oct. 25.
Coca-Cola Scholars Program: In an effort to recognize outstanding seniors, the Coca-Cola Scholars Program awards scholarships based on merit. Their primary goal is to reward seniors with high achievements including leadership qualities among an eagerness to serve. The application deadline is Tuesday, Oct. 31.
Feldco Windows, Siding and Doors Scholarship: Feldco, a family-owned company specializing in exterior home improvement, is awarding $1,000 to a senior who satisfactorily describes how their family has impacted their way of life. Essays must be approximately 700-1,000 words in length. The application deadline is Monday, Jan. 15.
The Golden Apple Scholars of Illinois: This programs seeks out a diverse group of students eager to become teachers through their college years in order to provide them with experience working in the field of teaching. Students who enter the program can receive a total of $23,000. The regular application deadline is Thursday, Feb. 15.
For school-specific scholarships, visit West's scholarship website. Scholarship information can also be found in the counselor's office or on the bulletin board across the office.