Teacher Feature: Lauren Flahive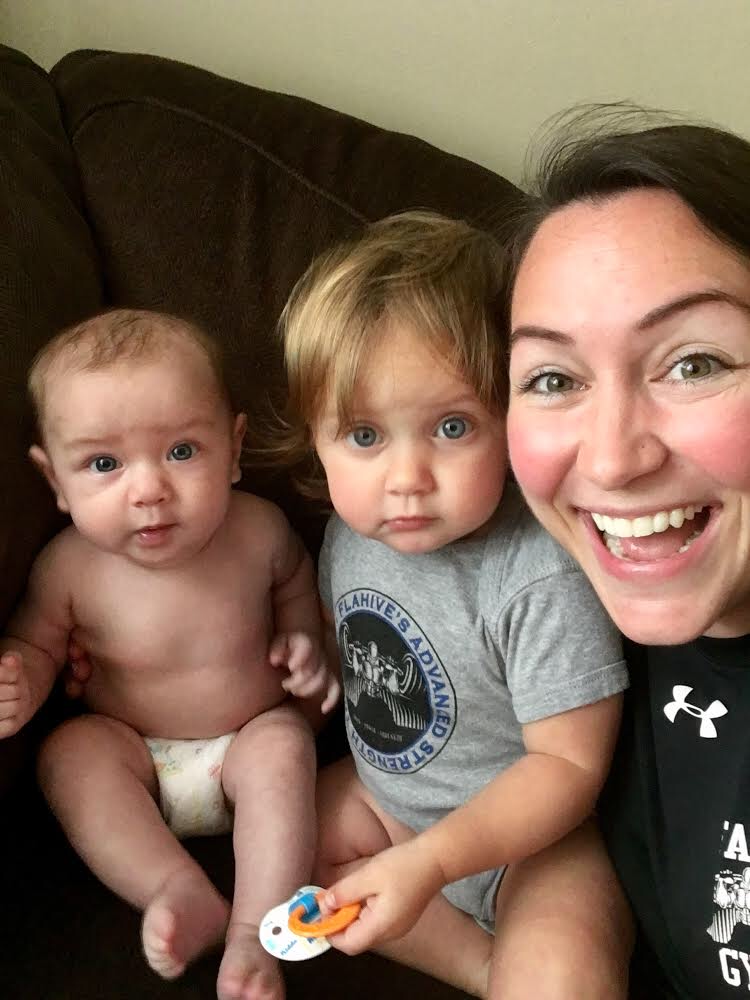 By Samantha Galanpoulos, Staff Writer
September 29, 2017
Many students believe teachers have the sole mission of teaching students through the long hours of the school day, but for social studies teacher Lauren Flahive, teaching is one of the many jobs she takes on in her everyday life.
As many may not know, Flahive has the blessing of having an enjoyable career, raising a family, and running an advanced workout facility that she prides herself in. Being a proactive individual within the building and outside of West is one of the many reasons why Flahive is appreciated in so many ways.
"All of the professional and personal aspects of my life have challenged me to take a step back and be mindful of each moment I experience. Life goes so quickly, and it is so important that we soak it all up so to speak, to experience true happiness. Happiness is all I am concerned with- it is contagious. I strive to bring positivity to everything I do, and along the way spread some good cheer upon others," said Flahive.
Aside from teaching, Flahive enjoys raising her two children. Beginning as just a teacher to prospering into a mother, she has learned many lessons about life that she may have never experienced without her kids.
"Being a mom is one of the most satisfying experiences I have ever had. To witness each and every change your baby makes day to day, week to week, and month to month is so exciting and makes you appreciate every moment and really gets you to slow down. Previously, days would come and go so quickly. They certainly still go by in the same amount of time, but now I make it a point to be present in the moment and truly experience it," said Flahive.
Flahive's ability to teach and enhance the minds of teenagers does not go unseen. Being a multi-subject teacher, students of all ages experience what it is like sitting in her classroom. Senior Natalia Scalero was in Flahive's AP Psychology class her sophomore year of high school. Scalero was speechless when talking about her impact on not only how much she learned, but how she was taught to be a good person.
"She is a phenomenal teacher who cares for each and every student. She'll prepare you very well to succeed at the AP level and allow for a variety of fun along the way. Her teaching style was very interactive and we were always doing something in groups," said Scalero. "Besides teaching, Mrs. Flahive was very personable. She would talk about life and psychology, blending them together while making it enjoyable. Even though she's not my teacher anymore, she still stops me in the hallways to talk about how I am doing and brightens everybody's day."
Her mother-like approach shines through in one of the biggest clubs in D219, Dance Marathon. DM is a student-run organization that promotes fundraising for a chosen charity every year. Both students from West and North accumulate as many proceeds possible throughout the school year to donate to their foundation and end with a celebratory "dance marathon," hosted at one of the high schools at the end of the year.
Co-sponsor of DM, and math teacher Karissa Moy had much to say about Flahive's drive and punctuality within this program.
"Mrs. Flahive does such an amazing job running an extremely large club. She really focuses on communication, leadership, and making sure everyone is working together," Moy said. "Besides her running it, she is such a fun person to be around. We always have a great time together whether we are just sitting around talking or planning for DM. She is a great friend to spend time with and is the perfect person to be around kids."
Digging more into Flahive's aspirations, weight-lifting is what she most fell in love with. Being an athlete growing up and living around competition, she wanted to do more with that element engraved in her. She and her husband are owners of the Flahive's Advanced Strength Training Facility right here in the Chicagoland area. People of all ages, sports, and genders come into the gym and receive extremely high-caliber workouts all day long. With Flahive being a teacher, mother, and running a club, her husband continues to hold down the company throughout the day.
We took our savings and started buying used equipment off of Craigslist and stored it in my mother-in-law's basement," said Flahive. "Over time, we have expanded and were eventually able to buy new equipment and a much larger facility, which we now have in Niles. It was very cool to see something develop out of very little at the start. It's a true testament to hard work and passion for what you do."
Being such a proactive person can be hard, but the rewards are intangible. Flahive finds these different activities in her life a challenge, one that she is capable of handling and holds to a very high standard. Many would never think of being involved in so many things, due to all the stress and failure that could come with it, but she finds it to be second nature. Whether Flahive is pumping weight in the rack, glued to the whiteboard, or going on family outings, she has devoted her entire life to the continuous successes that she endures. For her, she lives life to the fullest and yearns to do as much as possible one day at a time.