Q and A with the 2017 Homecoming Court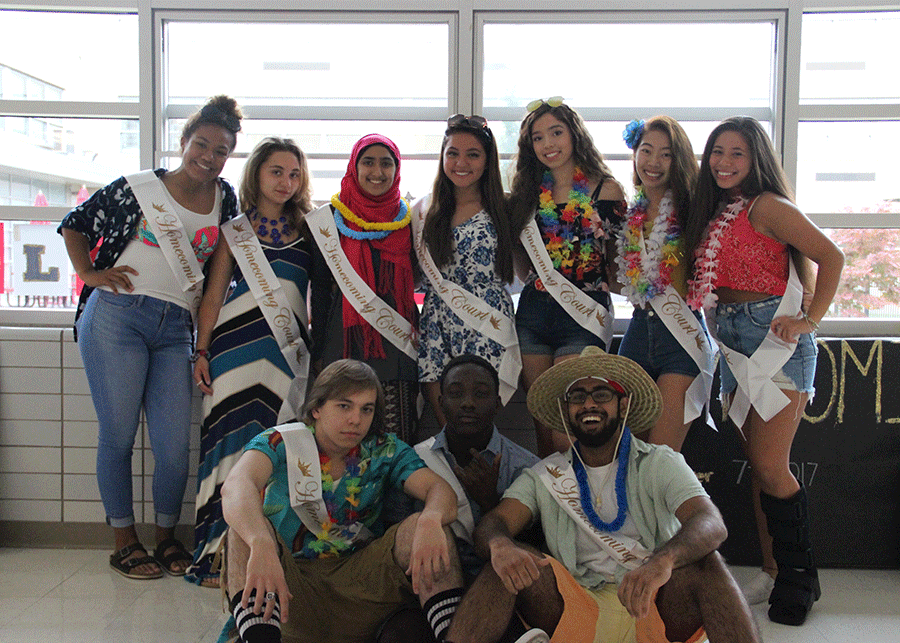 The NWN sat down with the 2017 homecoming court, seniors Andrew Bortey, Erika Albuja, Jaser Siddiqui, Cielo Jones, Christina Lee, Myra Esmail, Paulette Villagran, Valerie Green, Sarah Cohen and Aleks Stosovic for a Q&A on why each candidate deserves your vote.
1) Why did you decide to run for homecoming court? Why should people vote for you?
Andrew Bortey: I ran for homecoming because I am the first African male to [have the chance t0] win royalty. People should vote for me because I am going to get the assembly lit and legendary. I want the freshman to have the best assembly of their four years.
Erika Albuja: I decided to run for homecoming queen because I thought it would be fun, and it's senior year, so why not? People should vote for me because I'm really goofy, sweet, athletic, and full of good vibes.
Jaser Siddiqui: I just wanted to do it as a joke but I ended up getting on court. People should vote for me because I am a model citizen!
Cielo Jones:  I ran because I literally just wanted to give it a shot and see what happens, like the movies and etc. Also, I thought I'd be cool to see more diversity in the court, like me. I'm half Latina and half African-American. I feel like people should vote for me because I'm a wolf; I am Niles West.
Christina Lee:
My team and friends really encouraged me to run, and I thought it'd be fun to try something different for my senior homecoming! People should vote for me because Oct. 7 is my 18th birthday, and winning royalty would kind of be the coolest present ever!
Myra Esmail: I decided to run once I saw my name get nominated. I want to run because I thought that it would be something fun to add to my senior year. I also thought it would be nice if I did win since my brother was homecoming king last year. I also thought it would be a nice way to get to know more people in my grade and in younger grades. People should vote for me because I think I am a kind person and I also am really easy to talk to, especially to complete strangers.
Paulette Villagran: I decided to run for homecoming court because my friends kind of talked me into it by telling me it'd be a great way for me to be able to represent my Latino community. I also thought, why not? It'd be something fun and memorable to do for my last year of high school. People should vote for me because I'm a really friendly, positive, and outgoing person.
Valerie Green: I wanted to run for homecoming court because I have always made an effort to bring positivity to everyone at school and running allows me to see how much support I really have and how much of an impact I have made to everyone. I also want to prove wrong anyone who has told me I couldn't make it. Why vote for me, well, I am a good role model, I have been a good student, I try to be the nicest person anyone knows or the highlight of someone's day. I reach out to people because I have a good heart and care about my peers and I'm not afraid to be social. I try to be optimistic and I am very passionate. If you ever need a friend, I'm your girl.
Sarah Cohen: I decided to run because, why not? It's senior year and it's supposed to be something fun and memorable!
Aleks Stosovic:  It actually wasn't my idea, I was told to run by a few friends. When I asked them why I should do it, their answer was simple: "Because you'll win," they said. So I took their word for it, and here I am. Why should people vote for me? There are so many answers to that question, but I'll only provide one. I'm me. That's all there is to it. I impose my will on life in a positive way, and it's something people admire. I'm that guy.
2) What are your future plans? What colleges are you thinking of?
Bortey: I want to go to Urbana Champaign next year for college.
Albuja: My future plans are to go to Oakton for my first two years, then transfer out to either North Park or UIC depending on the major I choose.
Siddiqui: I wish to go into the medical field and want to go to Loyola
Jones: In the future, I want to be a lot of things. For instance, I want to be a forensic scientist with a criminology minor, a veterinarian, and to study communications, marketing, public relations, and journalism. Some colleges that I'm thinking of are: Mizzou, Southeast Missouri State, Depaul , Texas A&M, Iowa, Wisconsin Platteville, Nebraska-Lincoln, and that's just to name a few.
Lee:
I'm planning to move out of Illinois and pursue a business degree in finance or marketing! My top three schools are University of Michigan, University of Southern California, and Indiana University.
Esmail: 
In the future, I hopefully will be going to college [at] UIC. I want to become either a trauma doctor or a pediatrician (since I absolutely love kids!). An my end goal is to work in Doctors Without Borders so that I can go to different countries and help people who are in need of aid.
Villagran:
My future plans are definitely going to college. I've applied to many local schools; I plan on majoring in business!
Green: My future plans is to be a celebrity stylist and hopefully, study abroad in London or get an internship there.
Cohen: My future plan is to go to a four-year college, hopefully to one of my dream schools in California like UCSB, and to just enjoy life while working hard and discovering myself.
Stosovic: After high school, I plan on opening a bakery and working for NASA. I've applied to a teaching job at Harvard and the University of Cambridge, though. I plan on hearing from them soon.
3) What extracurriculars are you involved in?
Bortey: I am in Bosnian and BSU club.
Albuja: Here at West, I am involved in Futuro Latino, Dance Marathon, girls soccer, and Powder Puff.
Siddiqui: I'm in Ping Pong, NARWHALS, MSA, Track & Field, THP and many more!
Jones: Currently, I'm in Varsity Girls golf, I'm a freshmen mentor, SOAR, and outside of school, I'm a swim instructor.
Lee: 
I'm involved in varsity cheer, Spanish Honor Society, National Honor Society, orchestra, DECA, and out of school I volunteer at a flower organization that delivers bouquets to people in hospitals/nursing homes and at my church on Sundays.
Esmail:
 I am involved in 
Camping Club, Muslim Student Association, N.A.R.W.H.A.L.S, and Science Olympiad. All these are fantastic clubs that everyone at our school should join.
Villagran: I'm currently involved in Futuro Latino and Niles West News!
Green: I am involved in fashion club for extracurriculars.
Cohen: I am involved with soccer in and outside of school, choir, choir board, DECA, dance marathon, Wolfpack, NWN, and many more!
Stosovic:  I'll start with the one I'm most proud of- it's my second year as president of Serbian Club, which is a position that holds incredible significance in my heart. I have more than love for my native country. I've learned to feel responsible for how it is represented, understood, and interacted with in diaspora. I'm also president of a group called A Few Good Men, which is a group based on self-growth through serving others. It's my second year as an active member of Peer Reconciliation Committee and my first year in We Dine Together. I'm also a staff writer for Niles West News.
4) How do you want to make your last year in high school memorable?
Bortey: I want to make it memorable by making everyone around me laugh. I like to see smiles on faces especially because of me.
Albuja: I would like to participate in more after school extracurriculars, beat our last year's soccer record, and of course win homecoming queen.
Siddiqui: I want to make a difference in society and actually help the unfortunate through my actions.
Jones:  I just want to take advantage of all the open opportunities that come my way, whether I'd be with friends, school, or family, I want to make this the best year of just trying everything that I never had the chance to when I was a freshman or younger than that.
 Lee
: 
I honestly just want to make the most out of my last year! Sounds super cheesy but I'm really looking forward to all the things we get to do as seniors, like prom, gotcha, senior spirit week, deciding colleges, and especially graduating at the end of the year with my best friends
Esmail
: 
I want to make my last year be the most memorable by becoming homecoming royalty, hanging with friends more often, making friends with everyone I meet, and just not being too stressed out because time flies by super fast, and I just want to enjoy this year before it ends.
Villagran: I plan on making my last year of high school memorable by trying to go to as many school events as I can, and just having fun hanging out with the amazing friends that I've made these past few years. High school really flew by, so I just want to go with the flow of things and try to create as many great memories as I can.
Green: I want to make my last year memorable by spreading my kindness to others, make more friends, making people happy, and just enjoying the last year of high school by having fun. I just want to be remembered years from now as the really funny, nice, girl, who dressed fancy everyday.
Cohen: I'm all about making memories! Being my last year here at Niles West, it is my goal to make every moment with all of my friends, teachers, and activities that I'm involved in count. I want to make it memorable by still focusing on what matters, but enjoying every moment with everyone in my life; it will definitely be a year to remember!
Stosovic: Going to homecoming for the first time will definitely be a start. My senior year will be about making as many constructive relationships as I can before I leave the building. I'm trying to learn as much as I can from the people here, whether they're teachers, students, or security guards. Everyone has something important to offer.
5) Is there something you want everyone to know about you?
Bortey: I want to everyone to know that I do not want to win for my personal pleasure but for everyone. If you vote for me and Erika we will make it a legendary and unforgettable moment in life.
Albuja: Something everyone should know about me is that I am very outgoing, and I love making new friends.
Siddiqui: I'm a friendly guy with a cool beard!
Jones: I never went to a little 9 school. I'm not from Parkview, Fairview, Lincoln Hall or any of those schools.  I'm from the city; I grew up there and went to a private school all my life, so it's kinda cool so see how much I've grown and to have met some great friends from West that our friendship last a lifetime.
Lee: I love to travel and take cute pictures!
Esmail
: 
I don't have much else to say. However, I do believe that I add a little to the uniqueness of the school.
Villagran: I just want people to know that having school spirit is fun, and I really hope everyone goes all out for spirit week and has a great time at the dance.
Green: I want people to know whoever supports me, thank you so much! I am just grateful for all the support I have already.
Cohen: I really love travelling. I want to visit a lot of different countries and experience their cultures and lifestyles.
Stosovic: If you want to know who I am and what I do, come talk to me. The best way to get to know someone is by having a conversation with them. If you ever see me in the halls or in public, stop me and say hello. I welcome it and it'll make my day.
Vote here for your 2017 Homecoming Royalty. The poll closes at 11:00 p.m. on Thursday.