Niles West ACE Kicks Off New School Year
By Mara Shapiro
August 25, 2011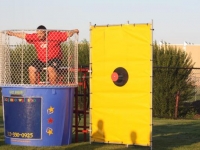 The Niles West Athletes Committed to Excellence Club (ACE) held their second annual Kickoff in the Basrak Stadium from 5 p.m. to 10 p.m Tuesday, August 16.
This year's Kickoff had a moon bounce, a dunk tank, which featured staff members such as Spanish teacher Andrew Suarez and ACE sponsor Richard Costante,  and an 8 p.m. showing of the movie The Sandlot. Refreshments were also sold at the entrance.
"[We put on the Kickoff] to build camaraderie amongst the athletes and the school. Also, [we put it on] to kickoff the athletic school year," ACE sponsor Nicole Reynolds says.
Senior and ACE member Vicky Georgevich agrees with Reynolds.
"We do the kickoff so all the students at West have a chance to get together and have a good time before summer ends.  It's especially good for the kids on sports teams so that they can get to know their teammates and bond before the season is in full swing," Georgevich says.
This year marked the first year that the kickoff included non-athletes. According to Reynolds, the reason for the inclusion of non-athletes was to improve school spirit. However, she still sees room for improvement.
"We had to move some things around due to construction, and hopefully we won't have to worry about that next year.  There is always room for improvement. We will have an ACE meeting… and see what changes the group wants to make next year," Reynolds says.
Junior Stephanie Swanson enjoyed her time at the Kickoff, but, like Reynolds, feels that there is room for improvement.
"It was a lot of fun, but [ACE] need[s] to do more advertising to bring in more people. Plus, [ACE] should do it more when school starts," Swanson said.
Georgevich agrees.
"The thing we can really improve on next year is getting the word out better and have more people come to the event."