PSAT to Take Place on Wednesday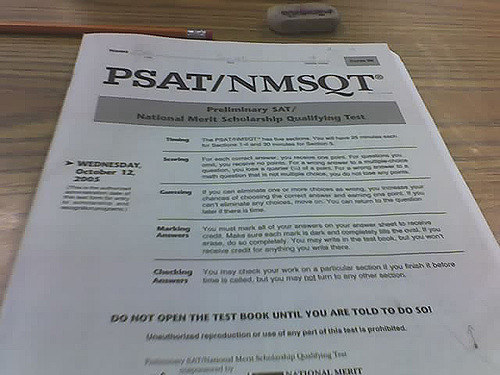 Hang on for a minute...we're trying to find some more stories you might like.
With the month of October just beginning, the annual Practice SAT (PSAT) testing day is right around the corner. On Wednesday, Oct.11, the sophomores and juniors are to report to school at regular school start time to take the standardized SAT test. For freshmen and seniors, it is a non-attendance day. Students will be released whenever the test is compete, and school will regularly resume on Thursday, Oct. 12.
"The morning of the test, students come to school at the regular time, 8:10 a.m. They are assigned specific rooms based on their last name. Once everyone is in their designated place, they will listen to all the instructions from their proctor, and begin the test. They will take three sections: Critical Reading, Mathematics, and Writing. After completing all sections, students will be released for the day at around 12:05 p.m. " college and career counselor Daniel Gin said.
Niles West's College Instructor Mr. Gin gave his knowledge on the importance of the PSAT and the different possible options for preparation.
"Students should go to satpractice.org, create an account, and link their College Board and Khan Academy accounts to unlock their personalized study plan. Some students want to have personal tutors and take private sessions for ACT/SAT prep. Aside from taking extra measures, the best test preparation is to be prepared for class each and every day," Gin said.
Being a student in attendance, many feel this scheduled day is not needed. Aside from the freshman and seniors having a day off, students do not feel the urge to take the test.
"I don't mind the idea of taking the SAT, I just wish we had a non-attendance day so everyone could be rewarded with a day to sleep in. I understand that this is put into place to give juniors an opportunity to test themselves and put them in a stressful environment, but I'd much rather take it on my own when I'm ready," junior Mady Hester said.
On the other end of the spectrum, students do not mind taking the SAT. For juniors, the possibility of getting the National Merit Scholarship is definitely an incentive. National Merit Scholar is based upon the student's PSAT score. Only juniors are eligible to qualify to become Nation Merit Semifinalists. Scoring high can qualify you for many scholarships.
"If our school didn't offer the SAT, the students would have to pay extra to take it, or they would have to take in on a Saturday. Most colleges do require some sort of standardized test, and the school giving us the opportunity to take it as West during a regular school week shouldn't be taken for granted," junior Gina Kostovetsky said.
Once the testing day is complete, the students are released from school and can look up their score a few weeks later. The tool to find their results is the College Board website. It has all information, results, questions, and tools regarding the ACT/SAT.
Due to there being two types of tests, students select which test they prefer. Every student is different in the way they perform on both tests. The idea of finding which test will guide you to score higher is the road to take when it actually comes down to testing well. Being comfortable with your testing choice and performing at your highest level is what SAT administrators look for in each applicant, every day.