New Fieldhouse, Cardio Lab Open; Training Room and Gymnastics Gym to Follow
By Ivana Kosir
September 19, 2010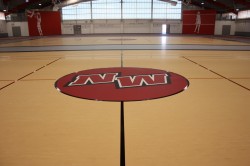 After months of construction in the athletic wing and a two-week delayed opening, which displaced multiple sports teams, the new and improved fieldhouse opened on Sept. 8.
Caused by a workers' strike, the postponement of the new fieldhouse caused several althetic teams, including girls' tennis and volleyball teams, to practice off-campus this summer and early fall.
"Tennis teams went to Madison Park to practice, and volleyball teams went to Energy, [a local club volleyball business]," said athletic director David Rosengard.
Over the summer, some teams had to share facilities with Niles North on their turf; however, Rosengard said he feels the inconvenience was necessary because the fieldhouse hadn't been updated since it was built in 1992.
"The fieldhouse needed to be updated," he said.
The murals in the corners that depict late '80s and early '90s uniform styles show its age. Principal Kaine Osburn agrees with Rosengard.
"The track was old, and the flooring wasn't cushioning enough," he said.
All summer, construction workers worked to place a new layer of flooring over the old floor.
"The old [surface] was worn out, and it wasn't worth repairing," said Osburn.
The track consists of indoor track flooring while the basketball courts have an updated version of the old material.
Other additions are being added to the school as well such as a bigger training room, which is scheduled to open in October, and a gymnastics gym, which is scheduled to open in November.
The training room "needed to be bigger." It was "inadequate" for the number of athletes that needed help, and "needed to be modernized," Rosengard said.
In the space of the old training room, there will be a team room, where teams can go to strategize or talk about their performances in past competitions.
The gymnastics gym was constructed to supply gymnasts a place to practice. It includes a full pit. The old gym consisted of the balcony of the contest gym for the boys, and a room approximately half the size of the contest gym for the girls.
Sophomore cross-country runner, gymnast, and softball player Vera Ratner said she thinks that the gymnastics gym will be the greatest asset to the school.
"You can practice more things knowing you'll be safe," she said.
The old girls' gymnatics gym now houses rows of treadmills, bikes, ellipticals, and stair-masters in the new cardio lab, which opened Tuesday, Sept. 7.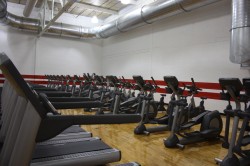 "[The cardio lab] benefits everybody including physical education classes," says Osburn.
The cardio lab is also open to staff.
Two more batting cages have been added to the north balcony for softball and baseball to accommodate both feeder and Niles West teams.
The east balcony has spinning bikes along the wall.
The strength and conditioning room has gotten a new floor as well. The room has been reorganized to fit more equipment in a more practical order.
"[The strength and conditioning room] has more space now," says Rosengard.
The contest gym was also repainted.