Grace Bencivenga: A Leap Of Faith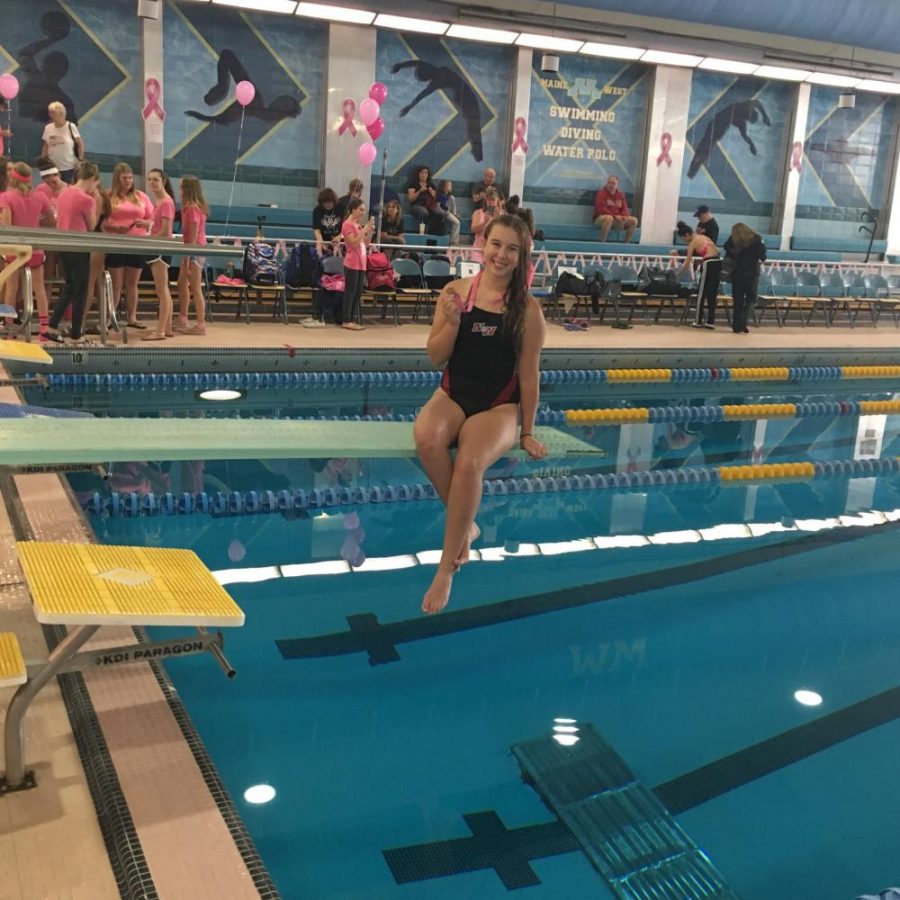 By Hannah Youkhana, Staff Writer
October 12, 2017
Everyone has that one memory of jumping off the diving board at their local pool for the first time. The rush you got when you hit the water made up for an intense nervous feeling you probably encountered. The sport of diving is one that takes a lot of talent and precision. Varsity diver, junior Grace Bencivenga knows the rush of nailing a perfect dive all too well.
"I first became interested in diving in the beginning of freshman year. Coming into freshman year, I had my sights set on being on the volleyball team, but sadly, I did not make it. I remembered over the summer that one of my friends sisters was in diving so I decided to show up at practice one day and give it a try since I wanted to try a brand new sport," Bencivenga said.
Bencivenga took something bad and made it into something good. If she had not been cut from the team, she never would have discovered her love for diving.
"Diving has had an enormous impact on my life. Growing up, I had been so used to playing on a large softball team and then once I got to diving, it was such a huge change. The team was much smaller and the competition was a lot different. In diving, you really are just competing against yourself by mainly trying to beat your personal best," Bencivenga said. "Before I had done diving, I had never had to move my body the way I do now. Diving has a lot taught me to have a lot more confidence in myself. Almost all of diving is mental so it's important that you're able to get over that fear and trust yourself, your coach, and your abilities."
Being involved in athletics all her life, Bencivenga has had her fair share of struggles.
"I have gone through a lot of struggles with diving. One of them being I'm very new to the world of diving, so I have to compensate for that by learning a lot in very little time. I also had to go through changing coaches after my sophomore year. My new coach has pushed me more than I ever have before. Most importantly, I've had to work through my own personal struggles," Bencivenga said. "There are many days where I just have a really bad practice and am struggling to make corrections or do what I'm told, and this brings my confidence down. In the end, I know that it will all be worth it because I am diving better than I ever have before."
Since joining the diving team, Bencivenga has made plenty of new friends. One of her closest is fellow varsity teammate and junior Katie Benstead. 
"I have known her since fourth grade because we went to the same middle school. We have been close friends since freshman year. She deals with a lot of hard stuff on the diving team but no matter what she's going through, she still manages to look past her situation, mind over matter, do what she can do to the best of her ability, and uplift everyone around her," said Benstead "She is also very determined and if she puts her mind to something, it gets done."
Bencivengas' work ethic also shines in the classroom. English teacher Michael Conroy has Grace is his honors American Literature and Composition class this year.
"In my courses, the true measure of work ethic is a willingness to complete formative assessments with the abstract understanding that these ultimately will benefit a student on summative assessments. Grace never fails to take advantage of such opportunities. Grace is eminently coachable. She responds well to constructive criticism, processes suggestions, and implements those suggestions to improve assessments," Conroy said.
Bencivenga is a good example of someone who is able to preserve through hard times. With her excellent work ethic, leadership skills, and the ability to never give up, Bencivenga is set for success on and off the diving board.