Athlete Superstitions: Diego Acosta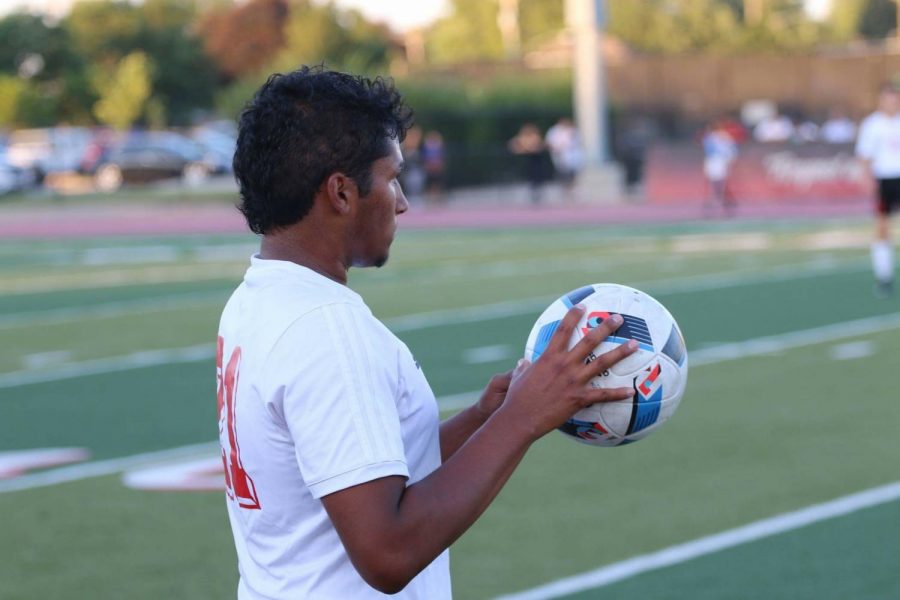 Extreme conditioning and repetitive training is what it takes to be successful at any sport; but for some athletes, superstitions are what keep them focused and ready to perform their best before games. Niles West senior and varsity soccer player Diego Acosta has several superstitions of his own that he has catered to for years.
He builds up the intensity needed to perform hours before a match begins. He first calms his mind by walking his dog, and then builds pressure by listening to bass-heavy EDM and rap music.
"I think it's really cool that he walks his dog before every game. Most people on the team only focus on hyping themselves up, but he found a way to chill himself out first," said teammate Alex Gracanin. 
Regardless of the weather, Acosta will always come to games wearing his warm-up top and pants. He wears two pairs of socks; his knee-highs socks go over a pair of Nike elites.
"My soccer socks are thin, so I wear two pairs of socks to cushion my feet. It's something I started doing a few years ago and I always play better when I wear two pairs instead of one," Acosta said.
He secures his shinguards in his socks with four layers of athletic tape. Never more, never less.  After his shinguards are on, he makes sure that his long shoelaces are tied extremely tight.
"I remember wrapping them four times once before a game in which I played incredibly well. I've been sticking to four layers ever since," Acosta said.
He chews gum during warm-ups and hamstring stretches and closes his eyes before the game begins. He takes this time to imagine himself playing at his best on the field.
He plans on trying different pre-game methods during the upcoming playoffs, particularly the ones his teammates frequently use.
"Some people's pre-game rituals or superstitions are weird, but we never question each other's practices because we all have our own unique routines we follow too. It's something we don't judge each other on," teammate Nick Lohan said. "If we believe it works, we'll do it."
"I'm gonna start pouring water on my head before every game and during halftime," Acosta said. "Nick Lohan said that it keeps him concentrated and that it helps him assist and score. It's an old Romanian trick his dad taught him, so I'm probably gonna start trying it too."
Practice makes all skills perfect, but Acosta believes that his pre-game superstitions add even more to his rigorous training.