West Hosts Successful First Wolfpack Gives Back Event
Over 120 students and faculty members came together on Sat., Oct. 14 to give back to the community. Many athletic teams, clubs, and other groups took part in this "Wolfpack Gives Back" event at various locations in the community, including the Niles Township Clothing Closet, Downtown Skokie Merchants, and the Homestead. This event was organized by Activities Director Katie Odell and Principal Jason Ness.
According to Odell, the "You Make a Difference Day" is a national event that typically takes place on the fourth Saturday in October. Odell has wanted West to participate in this for a few years. As a small thank you to students, breakfast and t-shirts were given out at the start of the day as everyone checked in.
Ness gave a little insight as to how he was feeling at the start of the day.
"I've been wanting to do this at Niles West for a little while now. We've been organizing this event for years now, and I'm so glad that the day has finally arrived. Unfortunately the weather is not cooperating with us fully today, but we're still going to make a difference in our community today," Ness said. "Organizing this was a lot of fun and hopefully the students can have fun too while giving back to our community."
Due to the heavy rainfall on Saturday, many that were supposed to attend the D219 Environmental Service Day were unable to and ended up staying at school. All other locations still boarded their buses and left at their designated times. However, those that chose to stay at Niles West felt that they still had a beneficial impact. In the Literacy Center, students made dog toys out of old t-shirts and sewed pillows.
"W.H.O. Club was supposed to go to the Environmental Service Day," junior Jasmine Varghese said. "But honestly I'm not sad. I ended up just going to the lit center and making pillows. Honestly it doesn't matter what activity you're doing or where you are because in the end you're still doing something for the community."
Junior Lucas Rouail was one of the members of the Varsity Basketball team that was present and thought of this as a team bonding experience.
"I've been here with my boys for a couple hours now, and I do feel a lot closer with them after making pillows for a while," Rouail said. "The season hasn't started yet, but I'm really glad that we all made it out here. We're having a good time."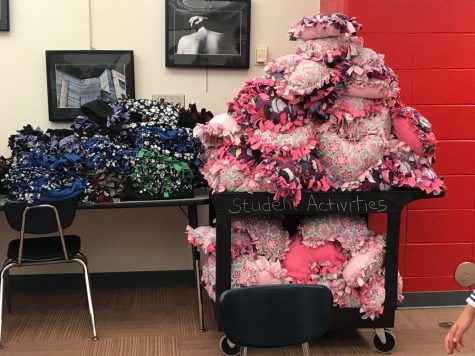 Also at West, those working in the student commons were completing tasks for Expanding Lives, a nonprofit organization designed to empower young women in West Africa. The founder, Leslie Natzke, is a French teacher here at Niles West, and was amazed at just how much the students completed in a short amount of time.
"I placed a bunch of different things around the room. I expected us to work for a long time but surprisingly everything was done quickly," Natzke said. "Since this was the first year, I know I'll bring more things to do for next time. However, everything was run smoothly and it helped me out a lot. Last year I had to do this all myself at home, and this is more much more efficient. It was also a little funny because a lot of the water polo boys kept looking for things to do, but everything I needed was done."
While this was the first time West has done this, many students were not able to tell this was the case and are already looking forward to attending this event in future years.
"This event ran so smoothly I really didn't know West hasn't done anything like this before," sophomore Hana Choi said. "I just thought that this was my first year. They organized it really well, and it was easy to check in and get bagels and a t-shirt. This is a really cool event and I hope they continue to do it for the coming years."