Andi Veseli: Taking a Risk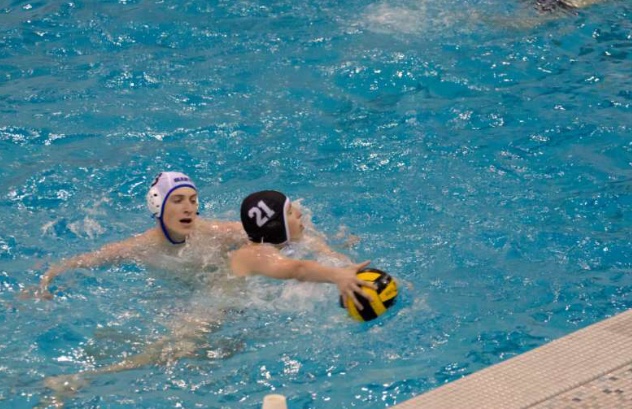 Sophomore Andi Veseli came into his freshman year of high school not expecting it to change his life at all. And yet, like many students, he met lots of new people who pushed him to try harder in school and, eventually, to join water polo.
"Freshman year was a hard year because I didn't really focus on school, but I got it together in the end. I thought high school was going to be like every other year of school, but I realized that it required a lot of more work," Veseli said. "Especially when it came to trying to balance sports and school work. The guys I now consider my brothers, convinced me to try out for water polo, and I ended up finding a real passion for it."
Water polo became a big part of Veseli's life; his love for the game, his coaches, and his team mates made his experience even better.
"Honestly, my captains meant a lot to me because they kept us in check, even when we were beginning to slack off. My teammates and I had a really good relationship. We would practice hard and play our games even harder. I learned that respect was a big part of the game," Veseli said. "The team became a big family, and the guys I played with became like my brothers."
The students that Veseli knew before became even closer to him. One of his closest friends became sophomore Stefan Simic.
"I met Andi back in third grade, but we became good friends during eighth grade. He really is a good person to be around. He creates a funny mood and can make you laugh at any time of the day. I convinced him to join the water polo team with me because we always had the same interests, and I knew that he would like water polo, " Simic said. "He always had my back during games, and I always felt more confident and comfortable when he was in the water playing next to me."
Veseli has a good relationship with his coach, John Przekota, who pushed him to be a better player and person.
"Like many of our first year players, Andi came into the season last year very inexperienced. But he worked very hard and improved a lot throughout the season, and started to get more playing time. His work ethic and love of the game were inspiring to see," Przekota said. "He always came with a smile, and always worked hard; he was always a super supportive teammate. Water polo is a very tough sport and if you don't have supportive team mates, it can be a very challenging season. I preach that the water polo is a family, and I think it's something that Andi understands and embraces."
Training for water polo has already started for Veseli. He has joined other sports to help build his strength and endurance for the upcoming water polo season.
"I joined swimming for the sole purpose of using it to get better at water polo. I've been preparing for the upcoming seasons by doing off-season workouts, but swimming starts in November and water polo starts soon after," Veseli said. "I'm really excited for this upcoming season and what it holds for me. I can't wait to make new memories and get to improve my game even more."