Sophia Abdella: Girl Boss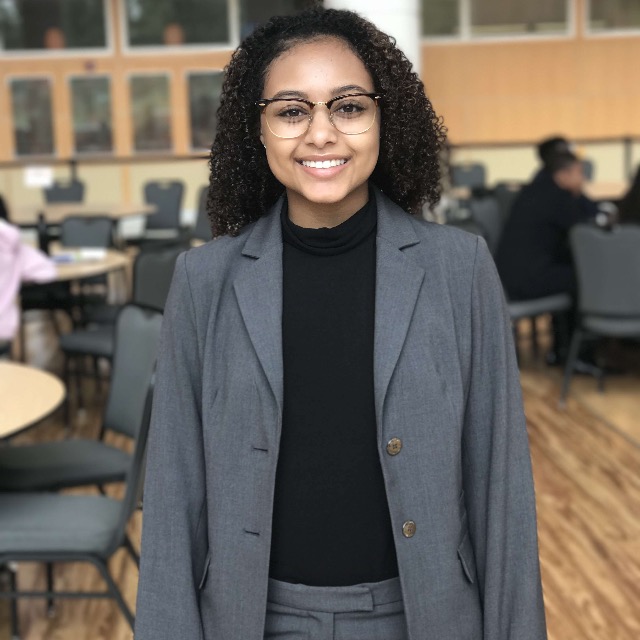 By Hannah Youkhana, Staff Writer
October 27, 2017
A leader is someone who values success and is always up for a new challenge; they surround themselves with people that have the same mindset. Senior Sophia Abdella exhibits all the qualities of a natural born leader. This summer Abdella had the opportunity to attend the Emerging Business Leader program at the University of Illinois at Urbana-Champaign.
The Emerging Business Leader Program has an acceptance rate of 0.05%, so Abdella was ecstatic when she found out she had been accepted.
"The Emerging Business Leader Program is a summer program designed for high-achieving African-American, Hispanic, Latinx, and Native American students entering their senior year of high school. Us participants lived on campus and we were taught by some amazing faculty, worked on capstone projects with the other students, and connected with corporate executives to further our knowledge on business-related careers," Abdella said.
Abdella attended many different events while away at camp, varying from getting her resume reviewed to learning about the admissions process at UIUC.
"The EBL program helped strengthen the skills I had and developed newer ones pertaining to business and speaking skills. This experience completely changed my perspective on college. Before this, college was just an idea and it seemed so far ahead. But going through this program helped me understand how close this idea is to becoming a reality for me in the near future. The month I stayed at U of I was a dry run of college, and I fell in love with it. I was running on a strong sense of adrenaline and it was the best I felt in a long time. I felt so independent and so sure of who I am, and who I want to be," Abdella said.
Don't forget that this was over Abdella's summer break, so instead of relaxing by the pool, she was busy working on her projects.
"Even though we were in class for eight hours every weekday, staying up till 3:00 a.m. with my new best friends and waking up at 7:30 a.m. to get to class on time was nothing. The whole time I was there, I was on this productive buzz: working on the case study, exploring the campus, working out. I even found time to talk to some of the Chinese foreign exchange students there in Mandarin. The biggest lesson I took away from this program was that if you do what you need to do, education can be fun. It's what you make it to be," Abdella said.
Abdella's three favorite qualities about herself are her strong perseverance, her ability to always find the good in the bad, and how well-rounded she is.
"My perseverance comes from the endurance that I had to go through hardships and using the opportunities to make me stronger. Finding the 'diamond in the rough' is something I live by because I'm an optimistic person. I believe in making the world a better place. As far as my well-roundedness goes, it's just a part of who I am. I know five languages, and three of them come from my identity," Abdella said. "Even before I could speak, I loved singing and am involved in many activities and opportunities that helped me express my enjoyment. I was a three season athlete for two years at Niles West and have been a student athlete prior to that. Recently, I have been exploring more talents and other ways to express myself through theatre department at school. I also won first place twice in two different spoken word/songwriting competitions from an original piece that I wrote and represented Niles West in one of them. I also represented Niles West in Chinese speech  competitions and won a silver medal two years in a row."
Not only does Abdella succeed academically and extracurricularly, but she also has great friends. Senior Nuhaa Mamood has been by Abdella's side since freshman year.
"I met Sophia freshman year in my Algebra 1 class. She sat right next to me, and we were asked to be partners and introduce each other in front of the class, and we had a lot in common, and since then we've stayed friends," Mamood said. "Sophia does inspire me in the way she's not afraid to go out and try new things. She likes to explore different cultures and clubs and activities, and it make me want to go out and try new things as well."
Abdella's teachers also notice her strong leadership skills in and outside of the classroom. When English teacher Dena Lichterman was asked her views on Abdella, she had nothing but great things to say.
"I had the pleasure of having Sophia in my ALC Honors English class last year, and she is currently taking my Literature of Peace and Nonviolence class. Sophia is not one to shy away from speaking her mind and speaking up about injustices that she sees. She is righteous in her thoughts, and she is all around a great young woman," Lichterman said.
Throughout sigh school, Abdella has been involved in many different activities and clubs in and outside of Niles West.
"Currently I am involved in: Students Organized Against Racism, Black Student Union, Muslim Student Association, Theatre, and Choir. The previous years also include: cross country, basketball, and soccer. Outside of school: Youth council at MEC, Muslim Interscholastic Tournament, Youth Expo, and Kickboxing class," Abdella said.
With all of these activities under her belt, Abdella has big plans for her future.
"My plans for the future consist of mainly being happy. I hope to obtain an MBA at college. Traveling to china, volunteering to adopt a kitten, and starting a family are all on my list," Abdella said.