Blood Drive To Be Held Friday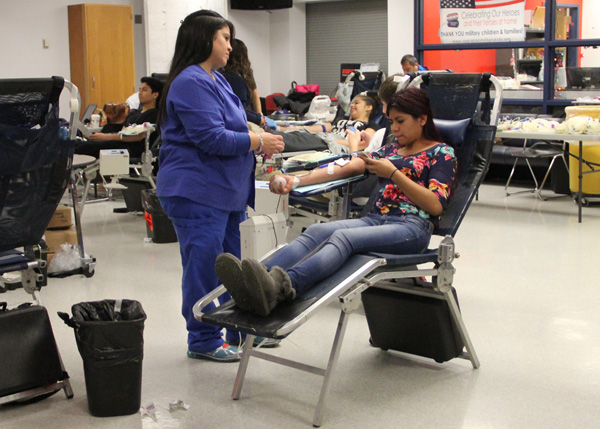 Hang on for a minute...we're trying to find some more stories you might like.
Dance Marathon will be hosting a blood drive in the Wrestling Gym on Friday, Nov., 10. In order to participate, students must be at least 16 years of age and weigh at least 110 pounds. All students must sign the Heartland Blood Center's permission slip. Students who are participating must have a valid ID with them and must make sure to eat a hearty meal and drink plenty of water before donating blood.
Niles West Dance Marathon hosts events to raise money for charities. Many students are eager to donate blood for this great cause.
"I've never done it before, but I think it would be a good idea to give my blood out. I will probably make sure that I eat and drink water before just in case. To help out the charity, I think, would be a nice thing to do," junior Halle Laude said. "I've never donated before, [so] this will be my first time."
Other students recognize the massive positive impact they can have.
"I believe it will help people in need. This will be impactful because there are people that need blood, and it's good to know I helped someone who wasn't as fortunate as I am," junior Briana Thillet said. "I did not donate in the previous years. This will be my first time because I didn't know a lot of information about it like I do now. I know that this will help dance marathon, which is a great club in raising charities for people in need. Even though it's something small to help, I need to start somewhere."
People who choose to donate blood can be helping out many people with just a small act of kindness.
"If you choose to donate blood and pass the screening test, you will donate one pint of blood. The blood you donate helps save the lives of up to three people. Dance Marathon believes in helping others, and donating blood is an easy way to help a lot of people. With events such as the hurricanes, earthquakes, and shootings, many people are in need of our blood donations," Dance Marathon sponsor Karissa Moy said.
If you are interested in donating, permission slips are available in the student commons. The permission slip must be turned before this Friday in order to secure a time slot for you donation. All donations must take place during a free period.