Commercial Foods Class Visits Famed Cuban Restaurant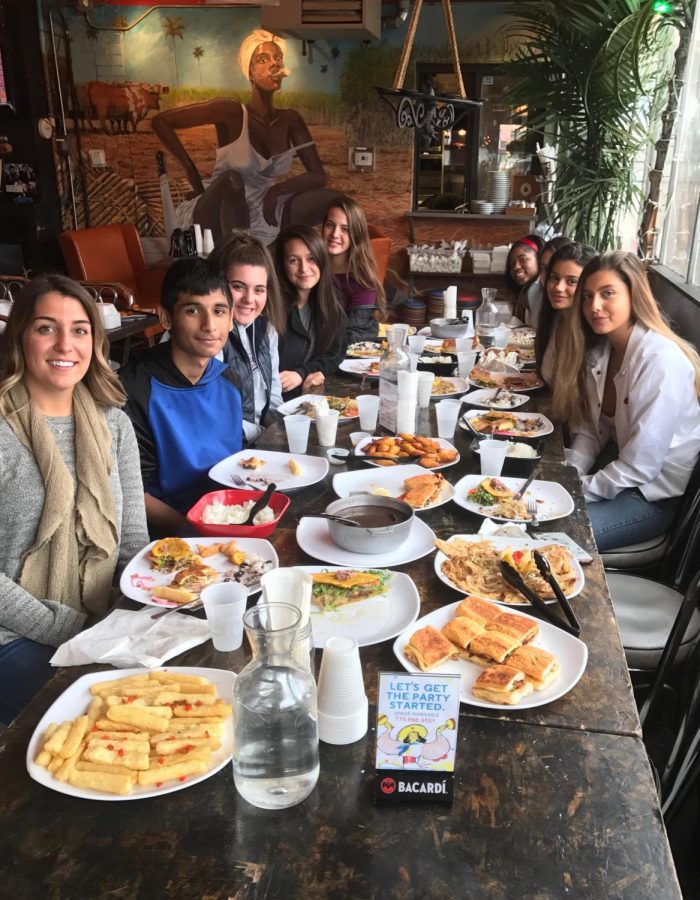 The Fifth and Sixth Commercial Foods classes took a field trip to a well-known Cuban restaurant, 90 miles Cuban Cafe, on Fri., Oct. 27. Students had a buffet at the restaurant's Armitage location in Logan Square, followed by visits to the restaurant's other branches in Lincolnwood and Clybourne.
According to culinary arts teacher Kaitlin Romanchuk, the purpose of the field trip was to teach students about managing a restaurant, as well as provide a fine-dining experience.
"The purpose of the field trip was for students to experience authentic Cuban cuisine and to learn about owning and managing a restaurant," Romanchuk said.
The class chose to go 90 Miles because the family of one of the students, Alexia Gonzalez, runs the restaurant. The restaurant's name was inspired by Gonzalez's father's immigration to the U.S. from Cuba.
"My father was thinking of many names, and we all as a family had to give input, and so we all created the name with each of our ideas. Cuba is 90 miles from [Key West, Florida in the] USA," Gonzalez said.
Gonzalez's father, Alberto Gonzalez, was inspired to open 90 Miles because he missed Cuba, so he brought Cuba to Chicago.
"My father wasn't satisfied with his other jobs, and felt lost. He missed Cuba and his family, so he decided to take the risk and open up a restaurant," Gonzalez said. "It brings Cuba to Chicago, with my dad's grandmother's recipes. We have that true Cuban taste and feel because of all the bright colors and paintings in the restaurant."
Her family restaurant had lines waiting outside on their opening day, and thanks to the success it produced, Gonzalez's restaurant went on to be featured on Guy Fieri's food network show, Diners, Drive-Ins and Dives, as well as appear in the Chicago Tribune, CNN, Windy City Times, and many more media outlets.
Students tried delicious authentic Cuban food, received a tour of the restaurant by Mr.Gonzalez himself, and visited the restaurants other locations throughout the Chicagoland area.
"Our trip consisted of a full course meal with many yummy appetizers, main dishes, sides, and desserts. Also, we received a tour of the restaurant and were able to visit all three restaurants throughout the Chicagoland area," Romanchuk said.
Appetizers included fried plantains, beef, chicken and cheese empanadas, and papas fritas. After a generous set of appetizers, students were treated to a hearty lunch of sandwiches, including 90 miles's signature Media Noche, a Cuban sandwich which consists of ham, swiss cheese, mustard, and pickles. They were also treated to a variety of desserts ranging from bread pudding to chocolate flan.
Students enjoyed the wide variety of Cuban food and plan on making a second trip.
"There was just so much food. My favorites were the sandwiches, like the steak one, and the rice with black beans. I would definitely come back my family," junior Nerina Alic said.
Gonzalez shares why she believes people should eat at 90 Miles.
"90 miles's food is very flavorful, and there is not one thing on the menu that people don't like. There are a lot of other Cuban restaurants but I'd have to say 90 miles does not just have great food, it feels like you are in Cuba. There is such a lively feel at 90 miles, whether it's a live music night or just a regular day, and I believe that needs to be in a restaurant in order to make people want to come back for the whole experience that we give," Gonzalez said.
Aside from good food, 90 miles Cuban Cafe provided good atmosphere, cultural music, and the restaurant was littered with murals and artistic portraits that embodied Gonzalez's father's memories of Cuba; the restaurant feels like a cafe in Havana.
For anyone craving authentic Cuban food or wanting to try something new, try out 90 Miles Cuban Cafe at any one of their three locations.