21 Savage: Without Warning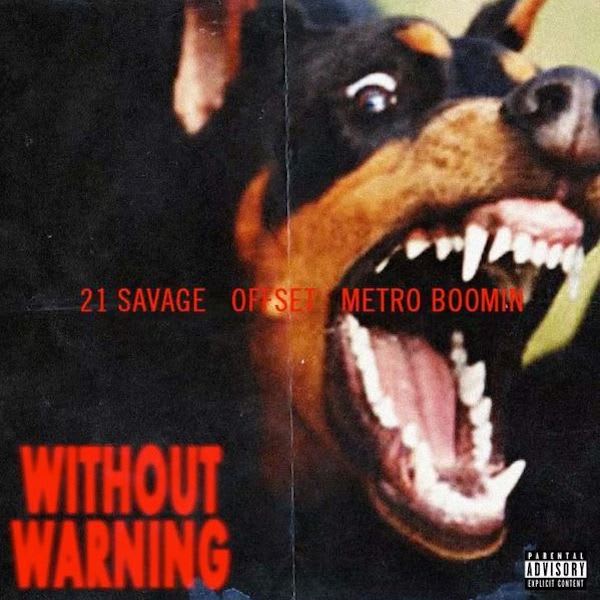 21 Savage did not wait long to drop another album after releasing his hit Issa Album this past January. On Oct. 31, 21 Savage released Without Warning, an album on which he collaborated with artists Offset and Metro Boomin.
21 Savage's release of Without Warning on Halloween was no accident; the album contains allusions to Halloween, such as references to Freddy Krueger from Nightmare on Elm Street and sounds of howling winds and cackling. Offset, Metro Boomin, and 21 Savage featured the perfect mix of guns and ghouls.
21 Savage raps in a very hostile tone. His voice is very gravelly and harsh. He's usually rapping about violence, while Offset has a very upbeat, fun-loving sound. Initially, the contrast could have posed a problem because it was so drastic, but 21 Savage and Offset balance each other out perfectly. Behind the rapping, Metro Boomin uses Halloween-themed beats and sounds as well as shrieking, eerie sounds, and other scary themed noises. All together, Metro Boomin, Offset, and 21 Savage create the perfect Halloween soundtrack.
Rapper Travis Scott is featured on the song "Ghostface Killers." Metro Boomin's slow and creepy beats create a perfect tone for the theme of the song. There are multiple allusions to many famous people in this song, such as Tony Hawk and Kim Jong Un.
Quavo is featured on the single "Rap Saved Me." Metro Boomin uses lots of bass in this song, making it one of the most trap songs on the album. Two out of the three Migos members and 21 Savage rap about the impact that rap has had on their lives and how it has pulled them out of the gutters. This was one of the few songs that the lyrics did not exactly follow the Halloween theme, but the music still embodied the spirit of Halloween.
"Ric Flair Drip" and "Nightmare" are easily the two best singles on the album. Metro Boomin adds spooky beats, complimented with sounds of wolves and other spooky animals in the back. 21 Savage and Offset reference Halloween movies like Friday the 13th and The Nightmare on Elm Street.
Overall, Without Warning is the perfect album for Halloween lovers. The songs are upbeat and easy to have fun to. 21 Savage, Offset, and Metro Boomin put in a lot of work to make the perfect mix of trap and Halloween. Next time you're heading to a spooky themed event, this is the perfect album to play.