Our Youngest Wolves: Middle School Mathematicians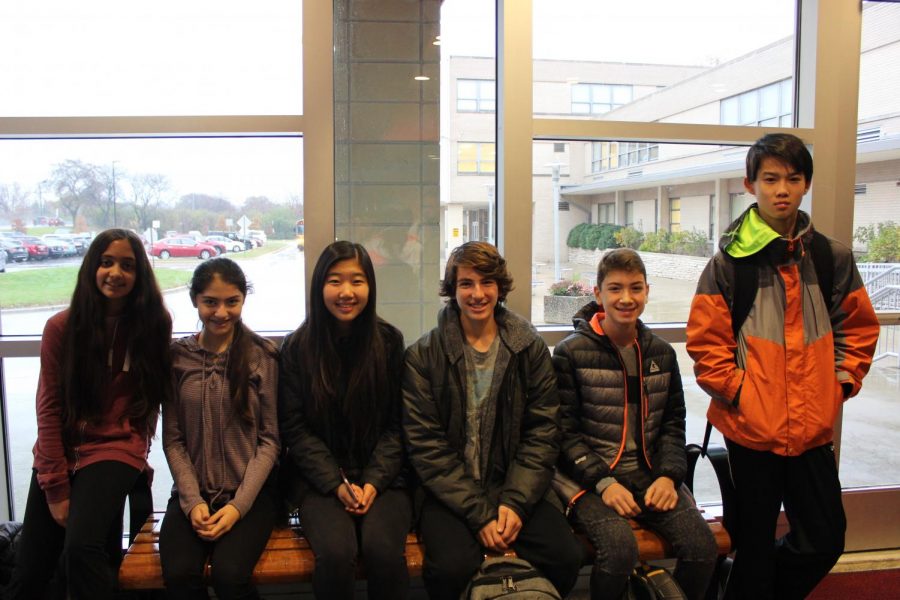 Each year, Niles West welcomes a fresh batch of bright-eyed, bushy-tailed young scholars in the form of 600+ new freshmen. But some may not be aware that between the early morning and the end of first period, even younger students can be found roaming the halls.
For several years, Niles West has offered students from its feeder schools the opportunity to take math classes at West if they have finished the course curricula at their middle schools. Students as young as sixth grade have taken courses including geometry, algebra 2, and even pre-calculus classes alongside freshmen, sophomores and juniors.
One of the most involved feeder schools in this "off-level" math program is Fairview South Elementary, a K-8 school in Skokie. Fairview consistently sends several eighth and seventh graders, as well as the occasional sixth grader, to begin taking advanced and honors geometry. Those who are a part of the program are welcome to ride Niles West buses in the morning, and a bus from Fairview brings them back to take the rest of their regular middle school classes. Lincoln Hall also participates in the program, as do a few other schools and some homeschooled students. Although the students are first and foremost middle schoolers, those who come to West in this way are considered to be full Niles West students — they receive a Niles West ID, take finals as usual, and have an official Niles West transcript.
One eighth grader from Fairview, Alicia M., is currently taking Honors Algebra 2, having also completed Honors Geometry as a seventh grader. She believes that her time at West has been a positive experience as well as a pretty unique opportunity.
"At Fairview, we have an advanced math class called SPINOUT Math [Special Programs In Nurturing Our Untapped Talent?], and it's a small class where we usually work independently at our own pace," she said. "We have smaller groups of two or three students who are working at the same level as each other, and if we finish the Algebra 1 material, we have the opportunity to take a placement test to get into a geometry class [at Niles West]."
Taking classes with older students may seem daunting, but Fairview eighth grader Olivia B. explained that it's not actually the case.
"At first, it was a little awkward to be in a class with people who are older than you, but you kind of get used to it because it's actually not a very large age gap," she said. "I think it's a good experience because we get a feel for what high school is going to be like, and since we're already here in the mornings, we get to look around and see what high school life is all about."
Senior Jane Hwang remembers being in the exact same position when she began in Advanced Geometry in seventh grade. Through starting with the program, she was able to finish AP Calculus as a sophomore. Although the tall, boisterous students in the halls were at first intimidating her first year, the high schoolers were more welcoming than she first expected.
"I would say that it definitely benefitted me to be a part of the class, and not just academically," she said. "I really enjoyed getting to know upperclassmen because they would give me advice that friends my age couldn't give me."
Most of all, being exposed to high school early can push the students out of their comfort zone, which is helpful in giving them a sense of what is to come.
"It was interesting experience for me as a middle schooler since it was my first time in high school," Hwang said. "When I formally entered high school I had a general sense of the school was built that helped not have that first day nervousness [as a freshman]."
If you're lucky enough to meet one of these talented young people, be sure to ask them about their unique experiences here at West and about their goals for the future.