2017-18 Girls Gymnastics Preview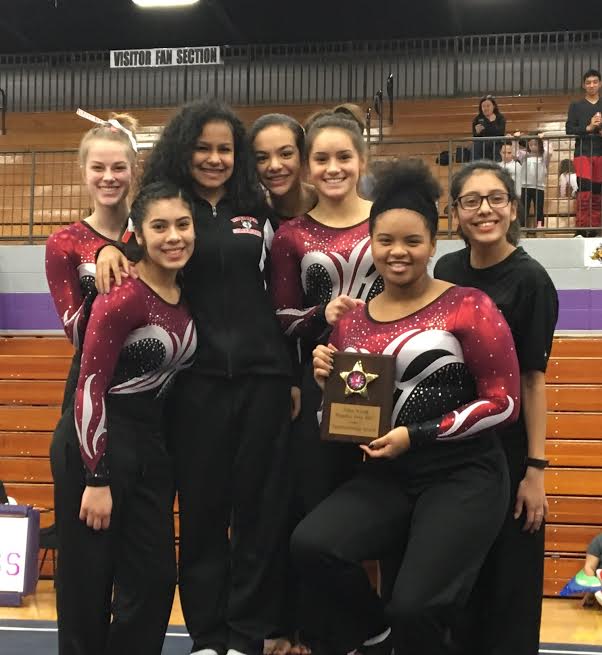 The 2017-18 girls gymnastics team is ready to kick off their season. With a majority of last year's varsity team having graduated, the team is preparing to undergo a season containing a large number of young members.
Captain and junior Kassandra Marin believes the team will excel this season if the they continues to motivate one another.
"This season already our team has been working hard during practices, and if we keep up the hard work, I believe we can be very successful. My personal goal is to add one or two new skills on every event. As for the team, I am hoping to have at least three or four girls qualify to sectionals and reach a team score of 137-138," Marin said.
Due to the graduation of three of the team's top gymnasts last season, the girls are attempting to fill in the shoes of those seniors for this upcoming season.
"Since three of our top gymnasts graduated last year, a big weakness will be filling their spots. On the other hand, we all motivate each other to improve every day, which is one of our biggest strengths," Marin said.
According to senior and captain Marianne Reyes, the loss of the last year's seniors will be hard to accommodate for this season, yet it will give some of the other girls a chance to shine.
"It is a bit of a challenge without the varsity seniors from last year because that means every girl on varsity has to compete for every event. However, this should not intimidate the team because we see this as a chance to be able to shine and [to give us] more opportunities to unlock our full potential as gymnasts," Reyes said.
Head coach Susan Arcus believes that the team is full of girls with a ton of potential, and she can't wait to see what they are able to accomplish this season as a team.
"Our team leader is again junior Jasmine Dirks.  Jasmine is our top all-around gymnast, and we expect amazing things from her this season. Sophomore Isabella Saldana is an amazing dancer and earns high scores through her difficult dance skills on beam and floor.  She has a few back issues, so if we can keep her healthy I foresee a great year for her as well. Junior Kassandra Marin has been working very hard during this offseason and has many new skills to add.  Her bars should be her greatest improvement this year. Junior Eviliss Santiago and senior Marianne Reyes round off our varsity team. All 5 girls are all around performers, meaning they compete in all four events," Arcus said.
Make sure to come out and support the girls gymnastics team throughout their season.