Mia Figlia: Italian Delight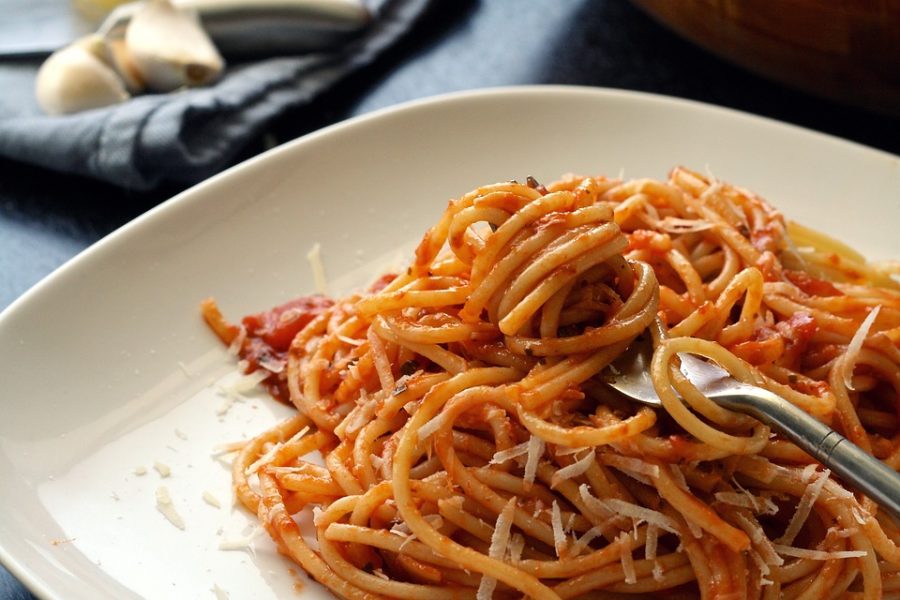 Chef John Boudouvas rushes out of the kitchen and converses among the scattered tables of patrons. His chuckle pairs with a soft, genuine smile as he hovers over his guests' tables. His regulars begin to order, soon being cut off by Boudouvas, who accurately guesses their requests.
A well-rehearsed welcome by one of his two daughters (who are also the meaning behind the name) is the first sound you'll hear at the door, followed by a smooth, jazzy-alternative playlist-most likely controlled by the other daughter. Staff attire coordinates with the burst of orange painted on the top wall. The multiple shades of tan colors lure you in, but you can find yourself focused on the freshly pressed white table cloths as you approach your seating arrangement.
If you missed the specials on the big chalkboard that hangs on the adjacent wall, an olive colored menu is placed on your table immediately after seating. Specials are read from memory, and usually include a spin on the classic favorites, adding a new green or a unique aroma of italian spices.
Though Mia Figlia, located on Touhy Ave, is run by Greek roots, its italian cuisine is its main market. The menu consists of a variety of traditional food, outlined by the italian root words of antipasti, insalate, pizze, paste, dolci, etc. Though the entree is in the italian dialect, english subtitles follow.
A light "Cesare" salad is quickly brought out on its square, white plate, making the greens pop with freshness and contrast. The romaine lettuce is neatly piled onto the plate, accented by ripe tomatoes. A sprinkle of herb-roasted, dark croutons spill onto the side of the plate. Thick dressing coats the greens, evidently being homemade. The thick, rich taste accents the lettuce. This is an excellent beginner; its simplicity and light-feel is a perfect way to start the night.
After a slight waiting period, the main entree of "Pollo alla Parmigiana" is served. A base of thin, spaghetti pasta is drenched in tomato sauce, with slight chunks of ripe tomato on the outer edges of the plate. A bread-crusted slice of chicken cutlet is fried to a browning color. Parmesan cheese, melted of course, coats the top while being perfectly soaked into the breading. Arougla is sprinkled on top, adding an accent on the dull colors. This perfectly-balanced meal is for the hungry, and the combination of classic italian flavors will not disappoint.
Mia Figlia's enriching environment ties in perfectly with its mission statement; "A simple, warm, and pleasurable dining experience." Besides its honor of being one of the "Top Kid Dining Restaurants" in Chicago, according to ABC News, this is a place for the whole family to take a trip to Italy just for one night.