Hot Chocolate with the Principal Held Throughout December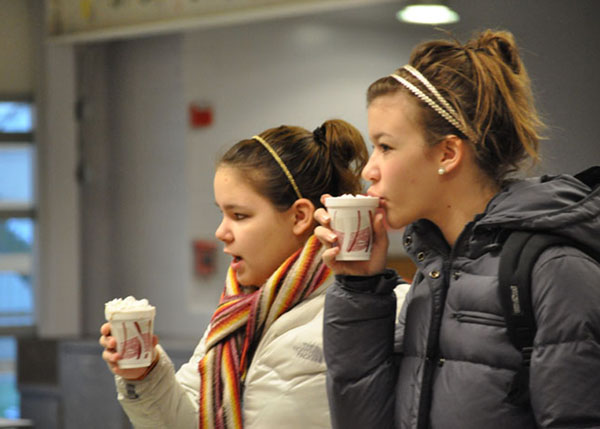 By Isa Gil, Social Media Editor
December 4, 2017
In these stressful weeks before our most beloved part of high school comes near – finals- we have something to look forward to and calm our stress: hot chocolate with the principal.
Hot chocolate with the principal will be taking place on December 1st before the start of the school day in the student commons.
This event is a way for the principal and other faculty and staff to interact with the students and get to know them better. Also, it is a nice way to have the students interact with the staff.
"We see the kids really enjoy this event, especially during the cold weather. It is also a way to introduce the students to the faculty and staff, so the kids get more familiar with the faculty and staff, "the principal's secretary, Judy Wheatman said.
This event will continue for every Friday of December until finals week.
"Hot chocolate will be served every Friday in December and we tried to change it up this year by having different groups do it such as the deans one week, the counselors the other security guards and so on," said Wheatman. 
Many students are looking forward to being able to get to talk to the principal and enjoy some hot chocolate while doing it too.
"I enjoy this event because it is a nice way to start your morning and school day by not only getting hot chocolate for free but be able to see people such as the principal interacting with students and caring for them," said senior Jackie Calderon. 
Make sure to stop by the student commons to enjoy hot chocolate with the principal and staff every Friday before heading into finals week!