Daniel Cudzich: A Machine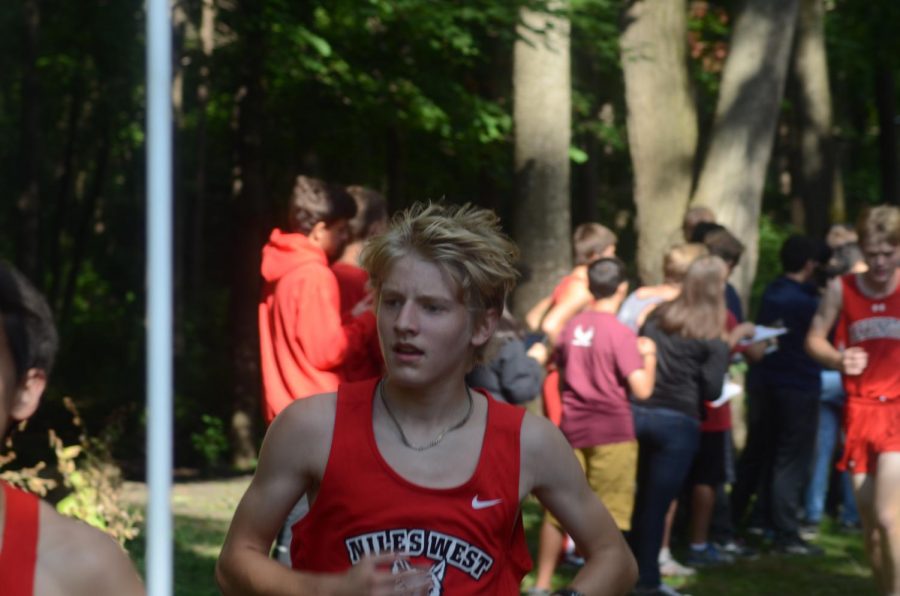 As students, we all undergo too much stress between dealing with all our schoolwork and extracurriculars. We attempt to take on a heavy course load to avoid burnout and spending too much time focusing on school.
However, sophomore Daniel Cudzich continually undertakes an incredible amount of activities without ever getting tired.
"Apart from school itself, I'm also in WYSE, Scholastic Bowl, math team, Science Olympiad, Polish school, cross country and tennis when they're in season," Cudzich said. "In general, I do tennis every Sunday when I don't feel like passing out, because, you know, that's kind of become a problem at tennis lessons."
Cudzich is not only a busy student, but he also is quite a math whiz. He has continually taught himself advanced math topics before learning them in a classroom environment. Currently, Cudzich is in Honors Precalculus and plans on taking Calculus BC during his junior year. He also uses his math skills to create artwork on Desmos, an online calculator tool.
"As for how I taught myself math before it was explained in class, it started in seventh grade when my algebra teacher showed the class what Desmos was and how it can be used to help with homework. I got curious one day and decided to explore the functions tab," Cudzich said. "I would just screw around, see what happens, and if something interesting came up, I searched it up or used that shape to make art. It's really just knowing the formulas for each shape and how to mess with each parameter to get that shape."
Junior and classmate Jovana Lazarevski had only kind words to say about Cudzich, whom she met earlier this school year in math class, where Cudzich stands out due to his vast knowledge of mathematics.
"He stood out to me from the rest of the class because of his vast knowledge of math. He tends to get excited when he knows how to solve something or already knows what Mrs. [Colleen] Gogerty is teaching us," Lazarevski said. "His excitement motivates me to do the best I can in class because he makes the class interesting. When I need help, I go to him during class because he always seems to understand what we are doing. Sometimes I even feel that Daniel teaches the class; he enjoys sharing his knowledge with the class and I really appreciate that about him."
Lazarevski admires that Cudzich has taken on such a heavy and difficult workload.
"I don't know how he does it; he's the man of action. Daniel takes all high placement courses and still has time to do cross country and the other clubs. He's always on top of his work and I give him credit for that because it's hard being so involved with extracurricular activities and getting all your work done," Lazarevski said.
Daniel is also taking SIRS (Stem Inquiry and Research), which is where he met junior Alexia Popescu. 
"From what I know, Daniel loves science. He asks tons of questions, [and he is] very curious to learn all he can. Once he puts his mind to do something, he usually does it very well.  For example, he's taking a lot of hard classes this year and he's managing them fine," Popescu said. "Daniel will probably go on to become a good science researcher or engineer, likely chemistry-related or maybe quantum physics."