Band Hits The Stage Tuesday For Annual Holiday Concert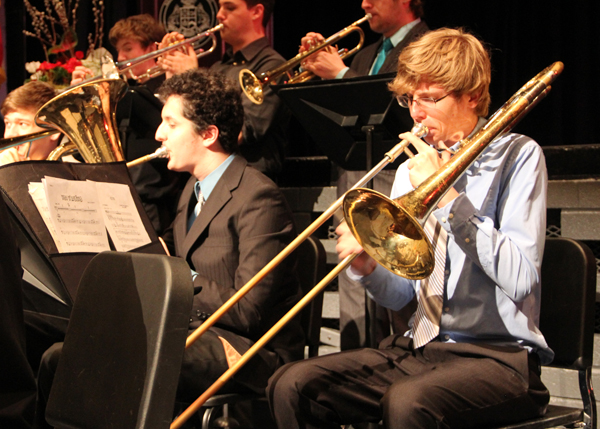 By Sarah Cohen, Staff Writer
December 11, 2017
'Tis the season for some holiday music, and you're in luck– the Niles West band holiday concert will be held this Tuesday, December 12, at 6:30 p.m.
With the holidays approaching and the temperature dropping, most of us start to turn on our favorite holiday tunes. Rather than turning on 93.9, come down to the Auditorium and listen to your favorite tunes, played straight from the instruments of your fellow peers. 
Many band members are excited and ready to share their hard work, especially senior flutist Jane Hwang.
"I'm most excited about how the audience will react to what we play, since we've worked really hard on this concert and have chosen a variety of music. A lot of these pieces require us to listen, while others require really careful counting, but overall, we practiced a lot of skills during this concert cycle," Hwang said. 
Not only are they excited to perform for this holiday concert, but they are even more excited to get into the holiday spirit. With this years selection of music, the concert will definitely be one to remember.
Senior Chris Witt is particularly excited to play one of his favorite pieces, "Greensleeves," which always gets him into the holiday spirit.
"It's a holiday classic. This piece just reminds me of all the Christmas memories I've experienced so far in my life. Being able to perform as an ensemble in the winter assembly also has allowed us to embrace our holiday spirit with the addition of fun holiday sweaters and Santa hats."
Students have been preparing for this concert since October, and they have all grown as musicians since the beginning of the year by putting in hard work for hours each day.
"Each and every one of us has put a tremendous amount of effort into preparing for this concert. Every day during my free periods,I see my classmates in the practice rooms working out a hard melody in their part or working with one another to put the differing parts together," Witt said. "Just last Friday, I walked into the band room after school to see Mr. Johnson helping two trumpet players with a difficult passage in their music, and they stayed there easily until 5:30 PM, just working to get their respective parts to sound wonderful."
Make sure to come support your fellow classmates this Tuesday night- they deserve to be recognized for all their hard work.