Riley Pranian: Back and Center Stage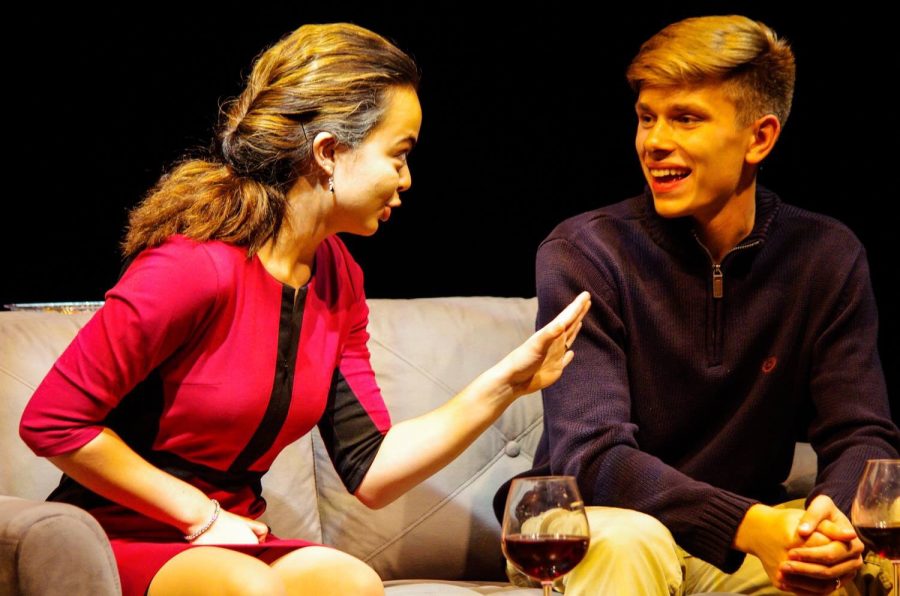 Whether she is running crew backstage or playing a major role in a school play, senior Riley Pranian is involved in any way she can with every theater and choir production. This year, however, she decided to challenge herself to the fullest by becoming president of both choir and theater.
Taking on two huge responsibilities has helped Pranian grow as a person, and even though the work and time commitment may be difficult, she is glad she was given such great opportunities.
"It has definitely been stressful and challenging, but it has also shaped me into a leader among my peers. I have gained confidence and maturity, and I am very thankful for these two incredible opportunities to lead," Pranian said. "When I try for something and end up failing, [like] if I don't get a solo I want or don't get a part I want, that actually motivates me to try harder the next time around. I would rather channel that frustration into something positive, instead of being bitter about something I can't control." 
Pranian had always expected that she would be a part of the fine arts department here at Niles West because she has had the arts in her life since she was a child.
"I've been involved in the arts for my entire life, so it started out as sort of a 'routine' thing for me," Pranian said. "But once I started getting solos in the choir and leads in my school play, I started getting recognized by my teachers and peers. That was when I kind of realized, this isn't just a routine-type thing. I'm actually good at it, and thankfully, I enjoy doing it too."
Senior Anthony Saldana is also heavily involved in both choir and theater, so he and Pranian have grown very close over the past few years.
"Being friends with Riley has been great because she's the kind of person that truly cares about everyone and will always ask how you're feeling to make sure you aren't sad or anything," Saldana said. "I do like performing with her because she's always looking for ways to make what she's doing better and improve. She's the hardest worker I know."
Choir director Matthew Hunter believes that Pranian's job is a handful, but she is doing a great work running the choir program.
"Riley's job is to oversee all activities that pertain to choir, [such as] choir decisions for upcoming events, choir board banquet, and Pasta & Pops. She really is the extension when I need to get a message across to the choirs. She oversees the marketing department, the librarians, and the treasurers, just to make sure everybody is doing their job. She makes agendas for every meeting and creates the choir attire, so she is pretty much the assistant director of choir- in terms of the business aspect," Hunter said. "I also oversee Riley in terms of making sure she is keeping up with people and her responsibilities, and she truly is doing good work."
At the end of the day, although Pranian's work is hard, there is nothing that she would rather be doing here at West.
"I love how fulfilling theater and choir are. They make me feel so accomplished and proud of myself. When I know I performed well, there's this feeling of pure pride and happiness that I haven't felt doing anything else," Pranian said. "The arts mean the absolute world to me. The arts have been a constant for my entire life and have been that positive outlet for me if I ever need an escape. The arts helped me find myself as a person and gain confidence in my abilities as an artist and as a leader."