Nasko Pelinkaj: Leader Today, Leader Tomorrow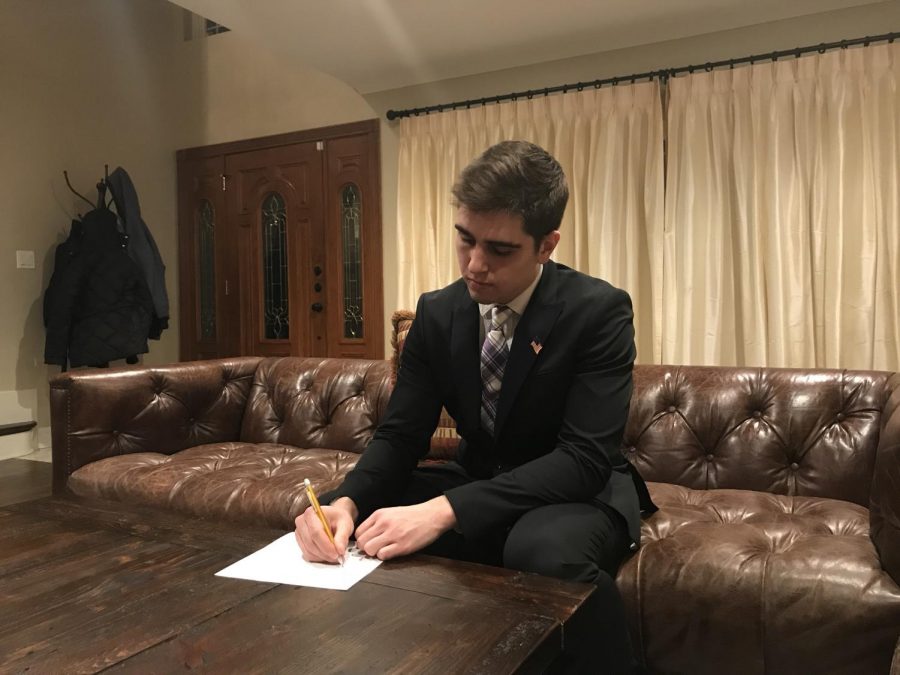 With such a unique name comes a one-of-a-kind human being; a true American at heart who wishes to see his country prosper in positive ways. Nasko Pelinkaj is a senior whose high school career is quickly coming to an end. Keeping his mind set on grades while also putting his heart and knowledge into his work takes a lot of ambition.
Pelinkaj holds a very important role for the student body that all people in the building should be aware of.
"I am the board of education representative for Niles West," Pelinkaj said. "Basically, I represent the school in front of administrators and other school authorities. Once a month, I give a speech at the school board meetings, and I give a run down of what is going on throughout Niles West."
Playing such an important role for the school necessitates being known by school authorities. Over the summer, Pelinkaj worked in the school's main office with a fellow classmate. Working in the office gave him the opportunity to get to know the staff and more importantly, he got to meet principal Jason Ness.
"Nasko was working in the main office over the summer with another student, so we got to know each other very well. He is our school board representative for Niles West. He attends every regular school board meeting once a month," Ness said. "He gets the opportunity to be the voice for our student body and to communicate to the community, school board, and superintendent. We always talk about what could be interesting and unique that we think people should know. He's very inquisitive and always asks a lot of questions which lead him to be very creative and end up coming with a lot of his own ideas."
Pelinkaj's motive to achieve his place within student government was to help him prepare for future; his ultimate goal is to become president of the United States. If that doesn't work out, Pelinkaj hopes to work in some sort of political branch.
"One day, I hope to be president of the United States. Since middle school, I've always liked politics. Little by little, it started gradually building up each year. I watch the news, I read a lot of articles, I'm always updated with new laws and bills being passed, and I'm always curious to know what's going on around the world and in our country. I have a great deal of love for my country, and I wish to one day be able to represent it," Pelinkaj said.
Many people aspire to become president one day, but the vast majority don't put in any of the effort required. Pelinkaj's peers notice his dedication to the work he does to get a head start on his future. His senior classmate, Mubin Nasir, has already witnessed how involved Pelinkaj is with his aspirations.
"Nasko is a great person to talk to, especially about politics," Nasir said. "He always has something to say, and I've had some pretty interesting conversations with him about politics. You can tell he takes it very seriously. He also takes his role as representative to the school board seriously. He's a very hardworking person and someone I could see being an elected official one day."
While pursuing his dream of becoming a leader one day, Pelinkaj has a strong love for the U.S based on the freedom it gives to it's people.
"What I love about America is that I've seen so many people, including family, who came to the U.S. and were able to build their lives off nothing and become really successful by working hard. I appreciate the rights that we have as American citizens and the opportunities that we have to build a better life for ourselves," Pelinkaj said.
After spending a lot of time with Pelinkaj over the course of a few months, Ness has put effort in getting to know him much better. The two have gotten pretty close, and the principal has really seen the postitive traits in Pelinkaj.
"He has a presence about him where he's very appreciative, very humble, and he wants to learn. They're very unique qualities about him that are very special to have at an age like that. Nasko is very mature for his age," Ness said. "He's a tremendous young adult who has a very bright future."