Hot Chocolate with the Security Guards and Directors to be Held this Friday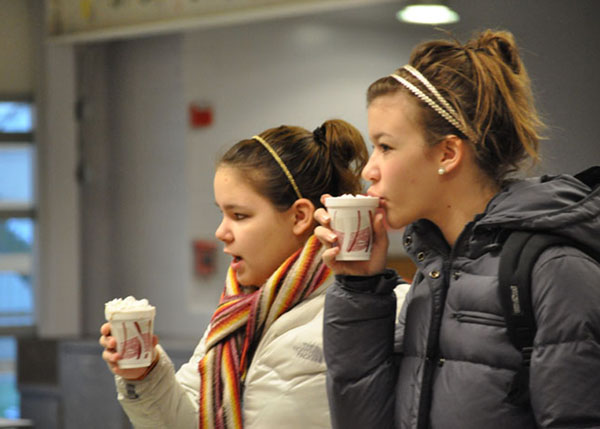 By Hannah Youkhana, Staff Writer
December 19, 2017
Starting this year, Niles West will begin hosting a Hot Chocolate with the Security Guards event. The inaugural event will take place this Fri., Dec. 22 and will be with security officers and the security directors in the student commons. Students are encouraged to drop by before finals.
Since this is a new event, a lot of people have been involved in its organization. Director of security Michael Pechter is happy to be involved for the first time, following previous Hot Chocolate with the Principal events.
"This will be the first hot chocolate event that I have the pleasure of participating in. I believe the purpose is two-fold. It is to bring some extra holiday cheer to all during the month of finals, and also to encourage camaraderie between students and staff. My favorite part will be meeting and speaking with all the students," Pechter said.
Pechter in not the only one excited for this event to be showcased; principal Jason Ness shares the same excitement.
"We've been doing Hot Chocolate with the Principal for years, but this is the first year we did Hot Chocolate with the Security Guards. The main reason for our students and security guards is to get to know each other is a bit better. Security guards are asked to enforce rules and provide supervision to the building. This is a way for our students and security guards to interact in a very positive environment," Ness said. "Just watching the positive interactions and smiles on everyone's face will be great. It's a good way to start the day."
When junior Angel Thomas was asked her views on the upcoming Hot Chocolate Event, she felt that it was a great thing to create.
"The security guards and security directors at our school are super important, so I think it's great we're having this for them. All the students appreciate their protection, and this is such a great way to give back and even get to know them more. I think it's great that this could be a chance to allow the security guards and directors to be more than just a face you see in the hallway," Thomas said.
Come out this Friday to the student commons before school to and share some Hot Chocolate with the security staff here at West. It's a great way to show holiday cheer and your appreciation.