Annual Holiday Orchestra Concert To Be Held Tonight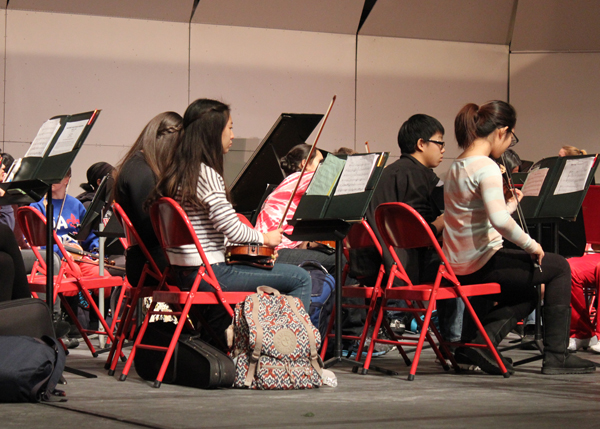 The Niles West Orchestra is holding their annual holiday concert this Monday, Dec. 18, in the main auditorium. The concert will start at 6:30 pm and will last about two hours.
The orchestra decided to go in a different direction this year with the type of music that will be performed during the concert. In past years, the orchestra performed music that was specific to Christmas. Due to the diversity at Niles West, the orchestra decided that they would play songs that are more inclusive of other cultures and religions.
"Niles West is a really diverse school, so the orchestra collectively decided to play music that includes other cultures and religions," said senior Julia Gladysz. "The Niles West Orchestra hasn't been very inclusive of the different cultures we have here at Niles West. We usually only play Christmas music. I'm excited for this concert because it's going to be different from past years."
Generally speaking, the types of songs will be very varied. Songs range from a Mozart piece, to a piece called "Halloween Spooktacular." This is the first year that the holiday concert will consist of pieces that stray away from traditional holiday music. Sophomore Iza Batorowicz has high hopes for this concert and is excited to perform.
"This is only my second year at West, and I really like that we're being culturally sensitive," said Batorowicz. "This concert is going to be really different, and I think people are going to enjoy it. It's a very different take on the usual traditional holiday concert."
The new orchestra director, DaJuan Brooks, has revamped the orchestra program and inspired his students. He is using the diversity he sees at Niles West to make a program that is an inclusive environment for everyone.
"Mr. Brooks is a vibrant light in many of my gloomy school days, and it's very refreshing," said senior Caroline Ryan. "Every orchestra in our program has grown immensely all thanks to this fabulous man. I love how he is bringing different aspects to the orchestra. Not only is he improving how we play, but he is also changing the program to include students and people of all different religions and cultures."
Come out and support your Niles West orchestra this Monday night. Enjoy the different types of music, and get into the spirit of the upcoming winter break!