WNBA Star Jewell Loyd Returns to Niles West
Jewell Loyd has returned to her roots to volunteer her guidance to the current girls basketball team. After playing in the WNBA for two years, where she recently sustained an injury, Loyd is taking time off to recuperate.  Now, she's back on the same court where her career first took flight, sharing her wisdom with young aspiring athletes.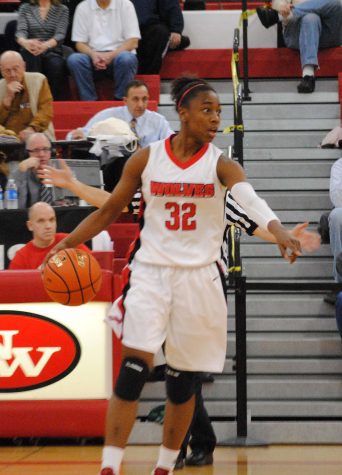 "Niles West is awesome. I will always come back to the school, it is something special to me. [Playing] here for four years created a lot of memories, so it is really a good feeling to be back," Loyd said. "Back when I played for West, our team won conference and sectionals and the atmosphere, as well as the school spirit, was just awesome in every way.  Off the court, the memories in the school cafeteria or the relationships with the teachers will always be special to me and that was a lot of the reason for me coming back."
While still in high school, Loyd signed with the University of Notre Dame where she studied and played for the Fighting Irish through her junior year. Loyd went on to become the first round draft pick at the young age of 21 to begin her professional basketball career.  Loyd began playing in Seattle in 2015, and she is now a starter for the Storm.
Loyd will return to Seattle once the WNBA season starts up again. As for now, Loyd has been working with the trainers and putting in work in the weight room to strengthen herself and ensure a healthy season with the Storm.
"I have a stress fracture in my foot from overuse, an injury most athletes get at some time or another. I have been working with the trainers and the weight room, on my stamina and balancing, but I have been focusing mainly on upper body and core," Loyd said. "I always come back here, whether I am injured or not, to work out with Coach Fernando Perez and trainer Dave Smetana. They are great at what they do, and you don't really have access to the same type of thing in college or even in the pros. You really take for granted everything Niles West has to offer, so I always come back and they always make sure I am in top shape when I leave, so I give a lot of credit to them."
Loyd has earned herself several prestigious titles, including the 2015 WNBA (Women's National Basketball Association) Rookie of the Year. She went on to set the WNBA record for most consecutive free throws made (14) as a rookie. Loyd also won a Gold Medal at the FIBA 3×3 World Championship in Moscow, Russia.
Transitioning from a player to a coach is something Loyd has described as a way to gain fresh perspective on the game she loves.
"It is definitely different being a coach instead of a player. I have known some of the girls on the team now and had seen them play since they were in fourth grade, but I never really saw myself being a coach," Loyd said. "But for me, this experience has allowed me to see the game from a different perspective which will ultimately help me as a player. Whether understanding game management and substitutions and all the stuff my coaches from the league have to do, I get to see what it feels like on the other side and how the pressures are different. It is definitely helping me grow as a player and as a person."
Current Niles West athletic director Kendall Griffin is thrilled to welcome back a player of Jewell's caliber and credentials.
"It has been amazing having Jewell back in the building. Having a person who is one of the WNBA's rising stars come back to help the team has been tremendous. You typically don't get someone of her credentials to come and help one of our teams," Griffin said. "Our girls, since the addition of Jewell, have been playing tremendously. They beat Evanston by ten points, where last year, Evanston was one of the best programs in the state of Illinois. Just that winner's mentality, what it takes to be a winner, is something that Jewell eats, breathes, and sleeps, and she brings that attitude when coaching these girls."
While collaborating with head basketball coach Kyle Braheny, Braheny and Loyd have found a way to blend their individual coaching styles to help lead the team to a successful season.
"She has been a huge asset to the team, a real positive lift for these girls. There is an instant respect for her; when she talks, the girls listen. Jewell is filled with so much knowledge and experience, it is nice to have another coach around. It is a different dynamic, but the girls really buy into her, and it's really nice to see," Braheny said. "Since she has been with us, the girls have been playing really well. One of our goals was to finish with a record of more wins than losses, beat Niles North, and win a regional game. And those goals still stand now."
Former high school coach to Loyd and former head of the girls basketball program, Tony Konsewicz, believes Loyd will make a fantastic coach and mentor to the girls on the team given her extensive background in the game.
"Playing at the highest level of basketball gives her great insight to the game and the most important thing is that she knows what it takes to be a winner, how to get to the next level and each level after that for these girls," Konsewicz said. "A great coach is someone who can communicate with their players, who can relate to their players and who can understand their players, and I believe Jewell can provide all these things as a coach."
Junior captain on the varsity team Lidia Fakhoury has already seen significant improvement in the quality of play under the guidance of Braheny and the addition of Loyd.
"She is so down to earth, hardworking, and she knows what she's doing; she pushes us to our limits and knows how to be a good coach. Her being here with us has made such a positive impact on the team," Fakhoury said. "She is a role model for my teammates and me because we grew up watching her play. We have always been inspired by her because she is hardworking, humble, and doesn't take anything for granted; all things that we truly admire."
Loyd continually acknowledges all of the people who encouraged her on her journey in the sport of basketball during her time at Niles West.  She hopes that she was able to be to give back a small part of that positive encouragement for the current varsity girls with whom she has the opportunity to work.  Her words are inspirational, but Loyd hopes that believing in each and every girl on the Niles West Wolves varsity team will, in turn, feel inspired.  That inspiration will be invaluable in helping the team reach their goals.
"Right now I am trying to get [the team] to be more aggressive. But more importantly, I am trying to get them to just have confidence in themselves. Confidence makes the biggest difference in your game. As a coach, I can instill confidence in them because I have confidence in the players myself," Loyd said. "I knew that if I could make the players feel like they are the star, that could change everything. If you treat everyone like a superstar, their potential to be successful is very high. I am trying to get them to fall in love with the game and fall in love with hard work and everything else should just fall into place."