Mitch Stern: More Than A Counselor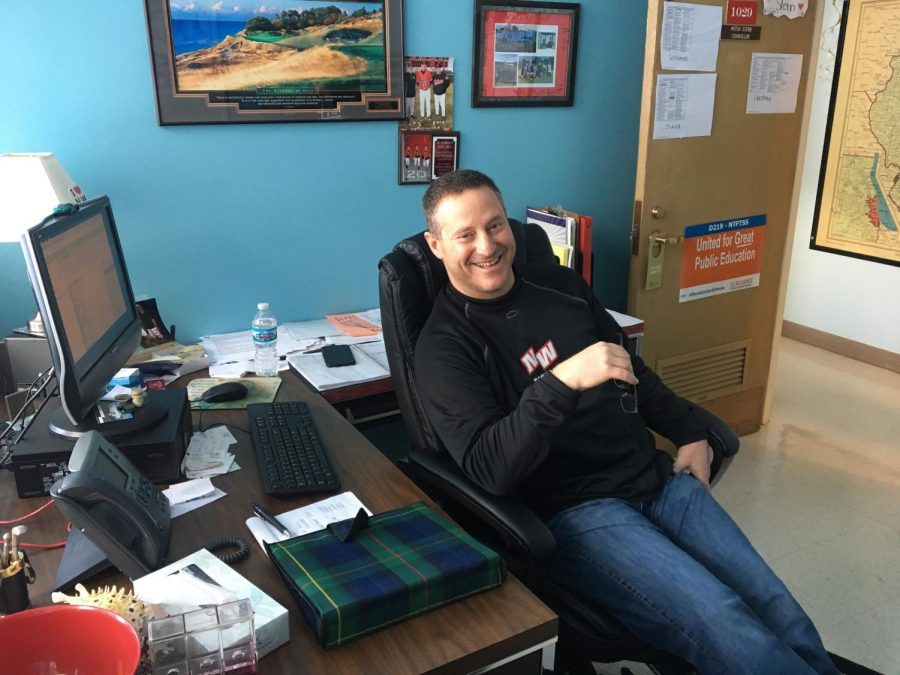 High schools are full of kids, staff members, and extracurricular activities that seemingly have no end. Within the wall of Niles West, many adult figures are considered unsung heroes. For guidance counselor Mitch Stern, his day-to-day work with students just scratches the surface of what his job means to him. Stern doesn't just sit at his desk for countless hours each school day; he spends his after-hours coaching golf and baseball, two passions not many know about.
Stern's passion for working with kids began straight out of college. His first job experience was working with students who struggled with drugs, suicide, personality disorders, and other extreme cases. This job opened his eyes to what really goes on in people's lives, and he wanted to make an impact.
"My first job consisted of me dealing with kids who had personal and emotional problems. It made me realize that young people sometimes have life-threatening problems, and I wanted to help them live. Plus, my counselor in high school (Mary Pat Carr) was so great, that I wanted to fill her position when she retired. But, I will never be able to fill her shoes," Stern said.
Along with a passion to help others, he strives to involve himself with kids on a regular basis. During the day, you can find Stern sitting at his desk in the counselor's office. Senior Callieh Mohr  has found Stern's availability and commitment extremely helpful during her career at West.
"Mr. Stern is always available to help me when I need help planning something or if I have questions. He is extremely dedicated and wants to make sure we are happy and comfortable at Niles West. No matter what time of the day or what I need, he is more than willing to make it work for both of us to meet and tweak things around," Mohr said.
Guiding others towards success is just a glimpse of Stern as a person. Being a guidance counselor by day and a coach by night demonstrates his passion for helping others.
"I love sports in general, especially golf and baseball. My first big coaching job was coaching college baseball. Traveling to tournaments and playing night games gave me free time during the day, so I dove into golf to keep me busy. The other coaches and I would join together for a round of golf. I was self-taught and never really had lessons," Stern said. "If I could, I'd play every day."
His passion for baseball is evident during the spring when he dedicates the majority of his day being the Varsity Assistant coach for the baseball team. Head coach Gary Gustafson and sophomore Jack Lochner agreed on how valuable Stern's time and knowledge of the sport have been throughout the season.
"Coach Stern is the perfect coach to have by your side. He's dependable, passionate, and extremely knowledgeable about the game. He does a fantastic job getting to know our young men and makes a point to relate to them on a personal level. He is a very important part of the program and brings new things to the plate that have changed our team for the better," Gustafson said.
From a player's perspective, Lochner loves how approachable and driven Stern is, which makes those around him better.
"I love Coach Stern. He may not seem like he would relate to the players but he tries a lot to connect with them. He brings a lot not only about baseball but lessons into the real world and about life. He brings discipline to the little things and that makes the team better," Lochner said. "He is someone I can always go to for anything and he promises us his all every time he's in our presence."
Junior Will Peiser expressed his gratitude of Stern's commitment and leadership to him and his teammates during the golf season.
"I love him as a coach because he is easy to talk to and get to know. Aside from the golf aspect of it, he's taught me that you can never give up in a golf match, even if you have a bad shot. He impacts everyone in the program with his devotion to making the team better and improving the program every year," Peiser said. "These lessons have transferred into my life and I take them with me everywhere I go."
For Stern, the opportunity to give back to his students makes working as a counselor and coach rewarding.
"I'm very grateful I can say that I truly love my job. Daily interaction with incredible students, dedicated staff, watching kids grow into young adults, and helping people through negative times in their lives is absolutely priceless," Stern said.