Looking Back at Theater Fest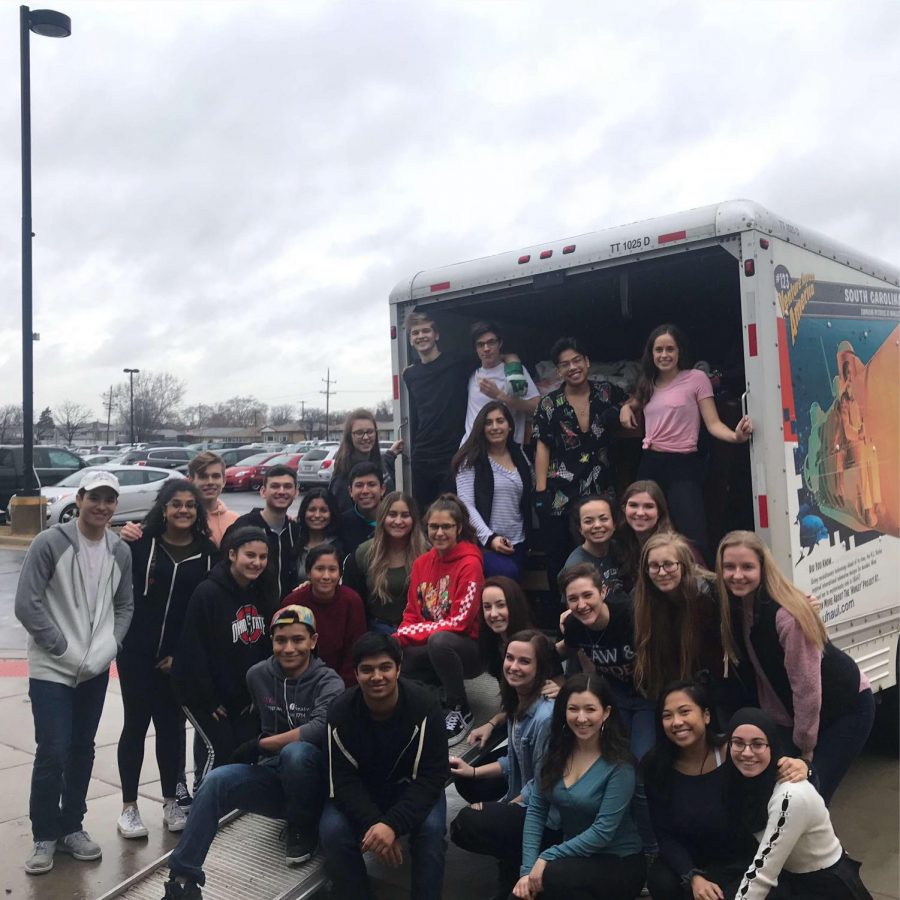 The Illinois High School Theater Fest took place from Thurs., Jan. 11 until Sat., Jan. 13 at Illinois State University. This year, students from Niles West's theater program performed "White Guy on the Bus."
Theater Fest is the oldest and largest non-competitive high school theater festival. Students from various schools attend to put on performances and watch other shows. There are also a vast amount of theater workshops for students to attend. Every year, the selected shows vary. Schools need to audition their shows in order to be chosen to perform.
"Theater Fest is more of a celebration of art in this state," Niles West theater director Andrew Sinclair said. "We get to see amazing things and interact with people who have programs very different from our own. Sometimes we get to see the wonderful privilege and life we have here. It also pushes us to be better artists when we see healthy competition."
Students from the Niles West theater program saw Theater Fest as an eye-opening experience. Theater Fest had a special appreciation for the show and praised "White Guy on the Bus."
"We put on two performances. We also had the opportunity to watch other schools shows and go to various theater workshops," senior Parth Shah said. "I got to meet a lot of people from other schools. This experience is really cool because I get to see how other schools put their productions together and observe the differences between our theater program and programs at other schools."
A select few students were chosen to perform "White Guy on the Bus." The play is about a rich, Caucasian businessman who meets an African-American woman on a bus. As the story progresses, it reflects on race relations in the United States. The topic of racism itself is very controversial, but the decision to audition with "White Guy on the Bus" was unanimous. Tickets for the show were sold out at Theater Fest.
"We were really nervous because we didn't get to run anything before our first show. Not to mention, we were performing in front of 850 people," senior Anthony Saldana said. "It was a bit different from performing at West because we were performing in front of such a large crowd, but I think the performances went really well. The audience loved it and some of the reactions they had were things we haven't experienced before."
Junior Violet Gilbert was co-scenic designer and assistant technical director for the show. She was in charge of helping out in all areas of the set. The cast and theater crew had to resemble their set for "White Guy on the Bus" from Niles West at ISU in a mere three hours. Through their hard work and dedication, the finished set looked amazing and attracted curious students from other schools.
"Loading the set onto the truck was very physically demanding, but we thankfully had many hands. It was very stressful to put the set together, but when I heard people commenting on how beautiful it was, I knew the stress was worth it," Gilbert said. "I think that our show provided a platform to talk about one of the most important issues in the US today: racism. Usually, this is a really touchy subject, but I think we tackled it in a way that gave everyone something to take away with them after the show."
The reaction to "White Guy on the Bus" was extremely positive at Theater Fest. The theme of the show was unusual for a high school theater festival, but it was necessary because of the message it presented. Racism is a topic that is avoided in daily conversation because people feel uncomfortable addressing it; "White Guy on the Bus" forces that conversation to happen, and this opens doors to societal progress.
"A lot of people label the show as controversial, and it might be controversial for a high-school performance because it uses strong language and deals with topics that can make people really uncomfortable. As a teacher, when I walk down the hallway I will hear more strong language in that time than the show," Sinclair said. "It's happening in this building, and in this area. We live in our little bubble where we think that because we have people from different cultures and countries, we're diverse. Every once in a while, that art needs to say B.S. to that. Art needs to hold up a mirror and say we aren't as diverse as we think we are."
The show taught the actors about themselves, and helped promote the idea of talking about race instead of avoiding it. The experience West's program gained from this festival helped further their love for theater and opened their minds to new ways of thinking.
"Personally, as an actress, it's hard for me to be proud of myself. In September, when we first opened, I was proud of myself for the first time," senior Riley Pranian. "To have 850 people give you a standing ovation on a show you've worked so hard for is unexplainable. I was crying, all the other actors were crying, and it solidified us as a family. Not only did it teach us about race, but it taught us about life. Other people's experiences taught us about ourselves and our capabilities. Theater Fest this year was the highlight of my high school career."