2011 Boys Cross Country Preview
By Nate Schapmann
September 7, 2011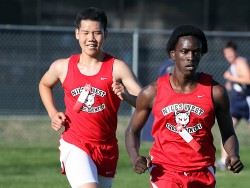 The NWN had the opportunity to sit down with first-year Boys Cross Country Head Coach, Mike Grossman about this year's team.
NWN: What changes have you made to the team, this being your first year?
Grossman: We've really put an emphasis on recruiting this year, as this is the largest team we've had since 1995, with thirty-five runners, so we've already doubled last year's team size. We've added an abundance of meets to the schedule this year; last year we only had three before conference. Also, we've brought back a few traditions, such as doing a bridge workout and having breakfast afterwards.
NWN: What are the most important meets?
Grossman: Our first meet at Hindsdale South will be a great challenge, since the top five teams in the state will be there. (Results: West placed 8th out of 17 teams.) A lot of the teams we'll face at Sectionals will be at our OPRF meet. Finally, the Woodruff meet in Peoria will also be important, since its on the state course.
NWN: What are the team's best attributes?
Grossman: We have a very strong team morale and bonding. Unlike sports like football, we aren't segregated. Meaning, our freshmen practice with our Varsity, which doesn't happen in some other sports.
NWN: Who are the team's best runners?
Grossman: Our senior leaders: Neal Omar, Marc-Daniel Julien, Masafumi Hoshi, David Iverson, and Blake Helton. The other guys on the team really look up to them.
NWN: Will Neal improve on last year's performance at the state meet? Will others join him?
Grossman: Absolutely. He's been training, and he's ready to make some noise come late October. Especially with Ramadan ending earlier this year, he'll be ready. Also, Marc has an outstanding chance, due to his knee injury being completely healed. He missed qualifying for state by six seconds last year, so he will most definitely make it.
NWN: How does the team look this year?
Grossman: This could be the best team we've had in our history. The others we had in '03, my senior year running here, '76, and '81. We have great depth on varsity, with juniors willing to step up if a spot in our top seven opens up. It's also a soft year for a lot of other teams at the Sectional meet.
NWN: What are some goals for this year?
Grossman: We want a full roster on all levels. We haven't filled our freshman roster since '09. We also want to win conference, have the highest team GPA, have a good support system, and qualify down state as a team. Before 2001, we never qualified a team to the sectional meet, but since then, we've qualified every year. This year, we want to start a new tradition of qualifying down state as a team. If we can't accomplish that, we want three or four individual qualifiers, and at least two all-state runners.