Amir Shirsalimian: The Dabbing Student Dean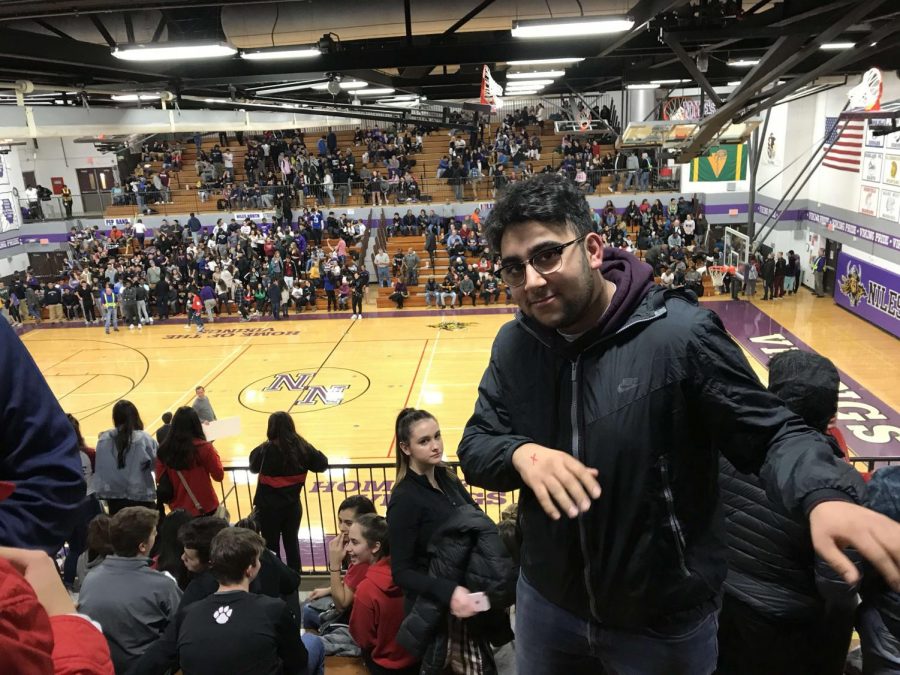 In a school full of vibrant personalities, many students possess traits that set them far apart from their peers. One of these students is senior Amir Shirsalimian, who is generally heard before he is seen.
Instantly recognizable by his large eyes and hysterical laughter, the self-proclaimed "Student Dean" is infamous for his dancing and supportive presence at Niles West sports events.
"This year, Amir and his friends made supervising football games really fun. They could always make me laugh. As a self-appointed student dean, Amir helped to keep the walkway clear of students so people could walk freely to concessions. Without Amir, no one would have been able to eat at the games," dean Amy Tucker said. 
His sociable, almost hectic demeanor wasn't always a part of him, however; he spent parts of his early childhood battling serious health issues. After surviving a potentially fatal blood clot in his head at seven months old, his optic nerves were damaged, leaving him with a scar he has to this day.
Born and raised to Iranian immigrants in Skokie, Amir graduated from Fairview South in 2014. His transition into high school was rough. He was bullied by upperclassmen during his freshman and sophomore year. It wasn't until his third year at Niles West that he began to feel like he belonged.
"My first two years of high school sucked. Junior and senior year I found a crowd to hang out with, I found myself, and I found what I wanted to do with my life," Shirsalimian said.
It was this same group of friends that first encouraged him to go to a football game. Being overwhelmed by the energy of the fans, his initial response was to seize his opportunity to capture the attention of the crowd.
"I saw the crowd, and I was like, 'Screw it. Go big or go home.' I lost it and dabbed and whipped and hit the folks like seven times, and the crowd went wild," Shirsalimian said. 
Now he goes to almost every varsity sports game and is always accompanied by his group of close-knit friends. All the games he attends are subject to the latest dance moves he practices at home. Although his stimulating personality is most prevalent in the bleachers of Basrak Stadium, it extends far beyond athletic events.
Amir learned what school is really about during his senior year. He now values real education- comprehending and absorbing material is far more important to him than just earning a good grade. As he prepares to fulfill his dream of studying to be a physician's assistant, he is regularly found at the local Starbucks on Touhy Avenue, tirelessly studying and completing his homework assignments.
The workers there are very conscious of his consistent presence at their coffee shop, as explained by barista Ulysses Nungaray.
"Amir's a very loud kid who has a lot of friends. He's annoying, his friends roast him all the time, and he wears shorts in the winter," Nungaray said.
The most important lesson Amir learned in high school is that positivity always prevails, no matter the obstacles ahead of him. Now that he is more mindful of what it means to influence his peers, his perspective on his role within Niles West has changed.
"I feel like if we respect our deans, everything will be good at school. It makes me feel elated when everyone has good vibes. I like setting an example for others, and I want everyone to look forward to coming to school everyday. I'm student dean because I get along with everyone, I carry the voice of all the students at school, and everyone values my leadership," Shirsalimian said.
His gripping charisma and ability to put everyone he meets in a good mood have been acknowledged by his entire graduating class, which considers him to be their mascot.
"He makes everyone feel like his best friend as soon as they meet him," senior Sam Aljupoor said. "If it weren't for Amir, I doubt there would be any life in our grade. He brought us all together. Everyone would have stuck to the people they've known since middle school if he didn't introduce us to one another. He makes our school a better place, and he always puts others in front of himself. Seniors don't even have the potential to be lit without Amir, and I feel like everyone in our grade has somehow been affected by him. There wouldn't be a better symbol of our class than Amir."
Appointing himself the student dean was the next step he had to take after realizing the importance of setting a good example for his classmates.
"Don't trip," Shirsalimian said. "If the brain named itself, I can name myself student dean."
Now that he is moving on to college, Amir will forever be remembered as the face of the class of 2018, and his legendary dancing will eternally remain in the spirits of Niles West's sports fans.