2017-18 Girls Track and Field Preview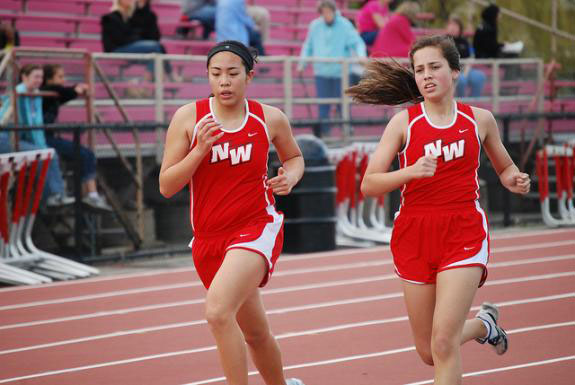 The start of the new semester means the start of many sports seasons here at West, and one of these sports is girls indoor track and field. After a highly successful season last year, the team is hoping to continue their success in their upcoming meets.
Junior Angel Thomas believes that the team will have a successful season due to the addition of strong freshmen and new coaches.
"With the addition of a new coach, our team has a lot of potential this year. We have a lot of new members on our team, as well. All of them are very talented, and I'm hoping to have a great season. I think for every season, our goal is just to get as many girls down to state as possible," Thomas said. "Personal goals for me are to just keep pushing my times and beating my personal record at every single meet, as well as getting down to the sectional meet."
The girls varsity track head coach, Mark Medland, wants to see the team make it to state and fill in the shoes of the graduated seniors from last year.
"Our goal is to try to qualify as many girls to the state meet as possible. As always, there are a lot of high hopes at the beginning of a season because you have girls who are returning who are ready to make that step because last year they made all-conference," Medland said. "We have girls who went to state last year who are now competing at the college level, so we need to fill in those holes. I really do think we have the opportunity to send girls to state this year."
Senior Rachel Cheuk has been a member of the track team since her freshman year, and she is ready to see how her team continues to develop in the upcoming season, given that all the athletes have been running in the off-season as well.
"I'm really excited and motivated for this season. This is my fourth year on the team, so I want to do really well. Track has positively affected my high school career by keeping me healthy and active as well as allowing me to form friendships with other girls on the team," Cheuk said. "I'm looking forward to seeing how well my teammates do and improve over the course of the season."
Make sure to come out and support the girls track and field team as they compete at GBS for their first meet on Tues., Feb. 6 at 4:30 p.m.