International Week Begins Monday, Jan. 29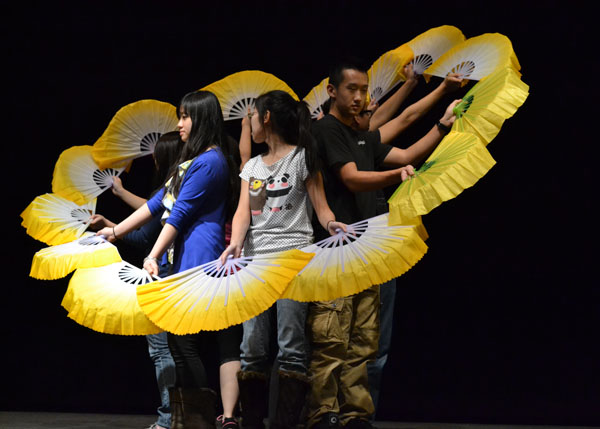 West's annual International Week will begin on Monday, Jan. 29 and last through Friday, Feb 9. The events and celebrations throughout the weeks are meant to showcase diversity and celebrate the many cultures represented here at West.
Some of the most highly anticipated events during the weeks include the two International Feasts, which will take place during all lunch periods on both Friday, Feb. 2 and Friday, Feb. 9. At the feasts, West's cultural clubs fill the Student Commons with a wide variety of ethnic foods and treats for sale. Throughout the weeks, various events will take place, including cultural roundtables, homeroom trivia competitions, and spirit days.
The full calendar of events is as follows: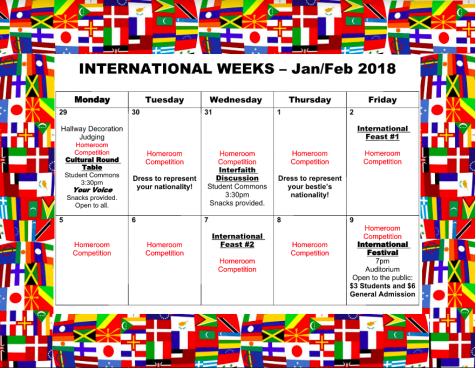 International Week is one of the most exciting times of the school year — music plays during passing periods, the halls are decorated with streamers and posters, and students and teachers alike show their pride in their own culture while celebrating others.
Senior Casey Pashup values both the learning opportunities and the fun that comes with International Week.
"I feel that [International Week] is an important time for the school. It allows us to see how especially diverse our school is, and there is always good food," he said.
Freshman Kevin Repta feels similarly. As someone interested in linguistics and in many different cultures, he believes we should put more emphasis on learning about the backgrounds and histories of the people around us.
"I believe international week is a good opportunity for other students to learn some interesting things about other cultural traits and nationalities. People should be interested in cultures as well as the linguistics behind them," Repta said.
International Week is a time when cultural differences are highlighted, and recognizing these differences can give us an opportunity to get to know others better.
"International Week gives us a great opportunity to see what's beneath many of our peers that we may not have known about, which can lead to great conversations," senior Michael Rohn said.
International Week will come to a close with the annual International Night, a night of dancing and cultural performances by West's cultural clubs., which will take place on Friday, Feb. 9 at 7:00 p.m. Tickets will be sold for $3 for students and $6 for general admission.