Restaurant Review: Spot Noodles and Rice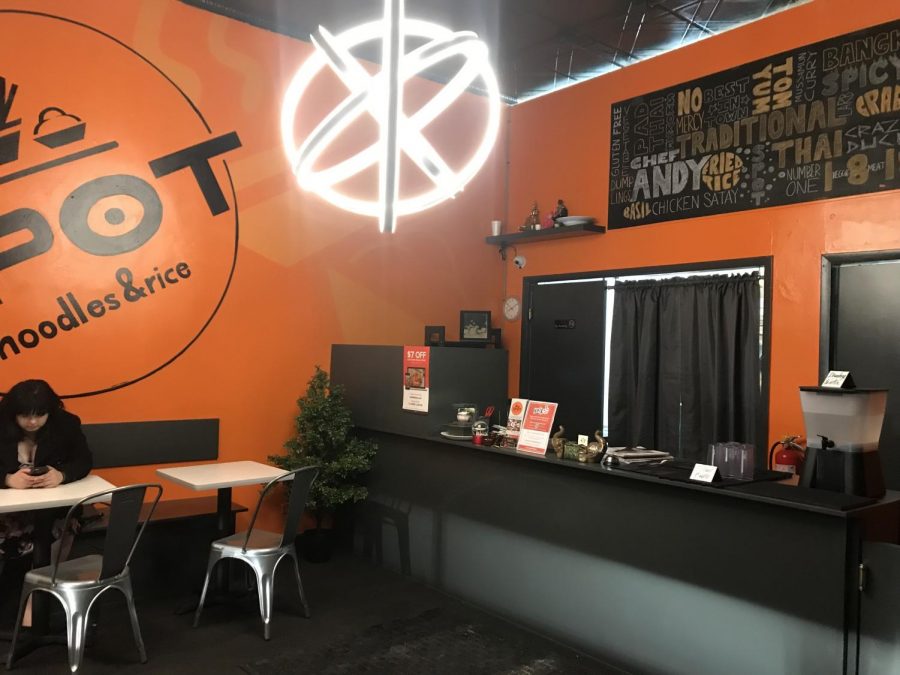 By Ella Ilg, Staff Writer
February 21, 2018
After googling "New Skokie Restaurants" and putting in my location, I drove down to a very small, Asian restaurant off of Dempster: Spot Noodles and Rice. It was empty and very small, but furnished amazingly, with a gorgeous, glowing orb chandelier and calming trinkets spread around. It was slightly tacky, but this experience was about the food, not about an owner who happens to like the waving cats you can buy in Chinatown.
The place is takeout driven, and despite the few chairs, it seems the only reason it has a location at all is to have a kitchen and somewhere people can pick up their food. The cashier was a little surprised that I actually stayed and sat down to eat, but he was pleasant.
I ordered the yakisoba noodles and the calamari, as well as mochi for dessert. I was very excited for the mochi, as I've never had it before, and I've always wanted to try it. The food took less than 15 minutes to come out, and after ordering from several Chinese restaurants over the years, I was shocked at the timliness. I was relieved because I was hungry, but I was also a little suspicious that it was so quick. Was it all frozen? Do they not make their own noodles or sauces? My expectations weren't high, but I hoped that at least they weren't just boiling ramen noodles from Jewel Osco in the back.
The noodles were perfectly cooked, and the sauce they came in was delicious- however, the dish was slightly overpowered by the vegetables. The vegetables were crisp and warm, but they weren't heavily seasoned and were only flavored by the sauce. It was overall a solid entree, and a little more than what's expected of a hole in the wall Chinese-Thai restaurant.
The calamari was what disappointed me the most. The squid was very chewy and hard to bite off, and the outer crust had no flavor. I'd expect something so deep fried to at least have a salty flavor, but it was just like flaky pie crust. The chili sauce it came with made it a little better, but not by much. It came with a lime, which was unexpected, but the lime was hardly big enough to squeeze over more than two of the rings. The rings reminded me of the way a carnival vendor would make them, and the calamari I was given at the Backlot Bash was better. They certainly tasted frozen, and I would not recommend.
The highlight was definitely the mochi. I'd never had it before, and it was interesting, to say the least. Mochi is a Japanese dessert- odd to find at a Chinese-Thai restaurant- that involves a ball of ice cream wrapped in a flavored rice paste and coated in powdered sugar. It was chewy and delicious, but a little bit messy. I thought I might choke on the sticky rice paste, but it dissolved nicely in my mouth and mixed well with the ice cream. I have nothing to compare it to, but I loved it.
Overall, Spot Noodles and Rice is nothing particularly amazing, but they're brand new to the area, so if you're in the mood for Chinese food, I suggest ordering take out from them and giving it a try. It's cheaper than other local Chinese food places, and they have a good deal of menu items to choose from- just don't get the calamari.