Jason Stanford: From Cop to Classroom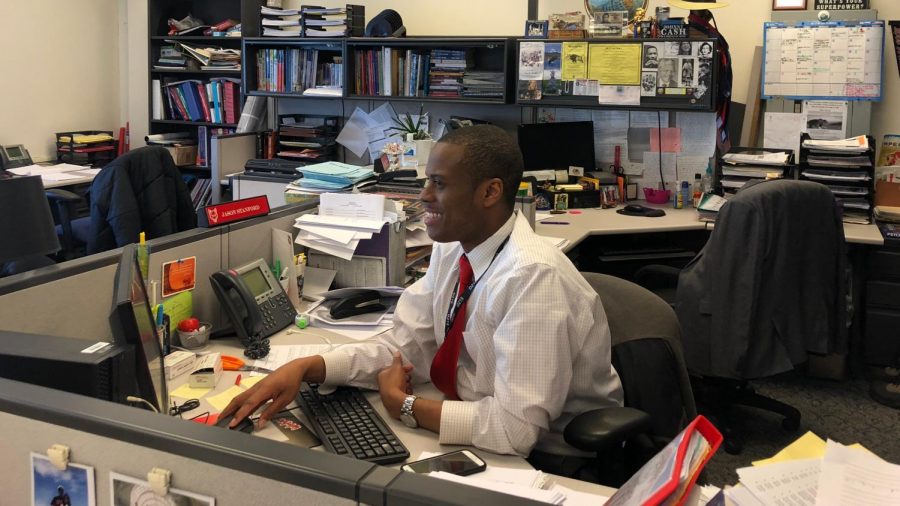 Every kid grows up wanting to be something special — from firefighters, to pop-stars, to President. Social studies teacher Jason Stanford has experienced two completely different jobs that commonly occur in children's aspirations.
Growing up, Stanford had the same dream held by many children- being a policeman. From wearing policemen Halloween costumes to watching law enforcement shows, he pursued this passion at full speed.
"My dad and uncle were both police officers, so when I was younger, I really enjoyed them coming home and hearing all their stories. It seemed so cool to receive a call and have to react to it right away," Stanford said.
After serving many years as a policeman, Stanford wanted to experience a different side of life by becoming a teacher. With social studies being one of his favorite subjects, he went after the opportunity to become a staff member here at Niles West.
"I believe I can make more of a difference in people's lives as a teacher. As a teacher, you have the opportunity every day to be proactive and mentor kids, while helping them make good decisions," Stanford said. "I enjoy helping students reach their personal and professional goals."
As a teacher of mostly freshmen, he is able to familiarize with the first-year students in a new environment while adding his spunk to teaching the material. Freshman Skylar Szlak looks forward to Stanford's class every day.
"I love Mr. Stanford. He is such an energetic, young guy who gets us kids. History is boring in general, but he finds a way to make it interesting and enjoyable to learn," Szlak said. "He never takes any days off regardless of interference and that is very appreciated from a student standpoint."
Past students of Stanford still boast about the fantastic experiences they have had in high school because of Stanford. Senior Cj Singleton was incredibly enthusiastic to express his gratitude for Stanford's drive and connection to his classmates and himself.
"Mr. Stanford is such a good teacher. He is willing to go the extra mile to help you be successful while keeping the class fun. Besides teaching, he is such a unique person. He used to tell us all the time about his cop duties, about the legal system, and everything in between. There are so many sides to him that I have been so happy to see," Singleton said.
Having a law enforcement background, he has brought those skills to Niles West. Mock Trial is one of the academic teams offered at Niles West. In this club, students perform the roles of witnesses and attorneys in cases that are often based on real-world examples. Stanford's familiarity with the law shines through in this.
"Mock Trial allows students to practice their public speaking skills, writing, and critical thinking. These three skills are valuable to students in whatever field they pursue. The students on the team work extremely hard, and it's very rewarding to observe their growth during the season," Stanford said.
Stanford partners with English teacher Gwen Quigley to sponsor the academic team and work side by side to push the members of the team.
"When I agreed to help Stanford coach Mock Trial, I was kind of nervous because I had never coached anything before, and I didn't know a lot about Mock. Stanford has been really helpful and patient with catching me up to speed on all the ins and outs," Quigley said. "The team really wouldn't exist without him. We communicate very well together in hopes of our kids being successful. He does a fantastic job of avoiding frustration and just turning a sticky situation humorous."
From pushing students in the classroom to enhancing the minds of the next generation, Stanford is never satisfied. He takes every day as a challenge, giving it his all and hoping to make a difference one day at a time. Seeing young faces everyday and continuing to pursue the two things he loves demonstrates what makes him the person he is today.