International Week: Bosnian and Montenegro Club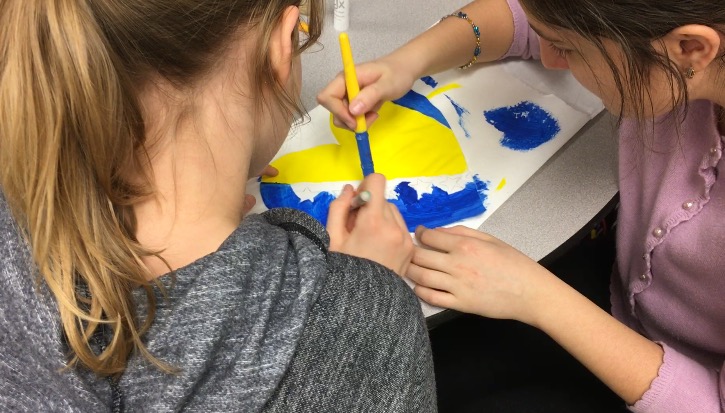 Editor's Note: This is the fifth in a series of International Week stories about ethnic clubs to highlight the diversity of Niles West.
International Week: a time for the student body to band together by recognizing the true amount of diversity within the hallways of Niles West. For many, the week is a moment for their clubs to properly represent their culture and significance throughout the school. The same applies to Bosnian and Montenegro Club, a club devoted to the cultural language and background of Bosnia and Montenegro, that annually partakes in the festivities of International Week.
The nearly ten-year-old club meets on Thursdays after school in Room 3190, and consists of Bosnian and Montenegrin students speaking in their language and enjoying their culture, whether it be through a movie or other fun activities.
"Bosnian Club is the club that has existed for eight or nine years, and it has always participated in International Week, each year with different activities," club sponsor Jasmina Jukic said. "This year, we are at the feast, and the hallway music; you will be able to hear some Bosnian music in the hallways [during] the passing periods. The Bosnian club is decorating the hallways and doing everything this year except the dance just because this year, the kids we have are not interested in dance. This year, for some reason, they don't know how to dance, and they're a little more shy, so they decided not to dance. This is going to be the first year we are not doing the dance."
For the feast, students are planning to sell borek with cheese, which is referred to as 'sirnica,' some desserts, along with other native foods to represent the culture's student body. They see it as a celebration and a fundraiser.
"[For the] feast, we're basically bringing our cultural food and trying to bring enough money, so we can raise money for sweaters," club president and senior Sabrina Vulic said. "There are so many cultures in Niles West and so many different clubs. It's just a way of representing all the Bosnians and Montenagrians in the school. Even if they don't come to the club, we're still basically showing pride in our countries."
Bosnian and Montenegrin club participates in as many school celebrations as possible, while also ensuring to give back to their community through charity work.
"We are do a lot of volunteer hours in soup kitchens, and [we help in] a church in Roger's Park [that serves] the food for the homeless. We do that approximately twice a year," Jukic said. "The next one scheduled for us is at the end of February. They are trying to meet and connect with other Bosnian kids from other high schools, not only from our district."
According to senior and club member Halid Skenderi, it is important to showcase Bosnian culture, among others, to properly share values and influence.
"It's important to show our culture because we have to show other people who we are and what we are about," Skenderi said. "Aside from the differences, we have to show that, we as a school, we should accept our diversity. That's the reason we're presenting ourselves. There are so many different kinds of clubs, so many different kinds of cultures. And then, if you go deeper, religions, and all that."
And, as described by Jukic, the Bosnian culture is, ultimately, a warm and welcoming culture that is most effectively conveyed through the heart-warming people.
"I think that the Bosnian people and the Bosnian culture is a really warm culture. The Bosnian people will help you; they will bring you into your house; they will feed you, and do anything that is in their hands to make you feel very good," Jukic said. "A lot of [my] American friends who went Bosnia were really happy with what they saw. They saw architecture, they saw a lot of different cultures, but the first thing they always talk about is how the people were so warm and how the people actually made them feel so great in the country. So, I think that's the biggest plus we have."