International Week: Filipino Club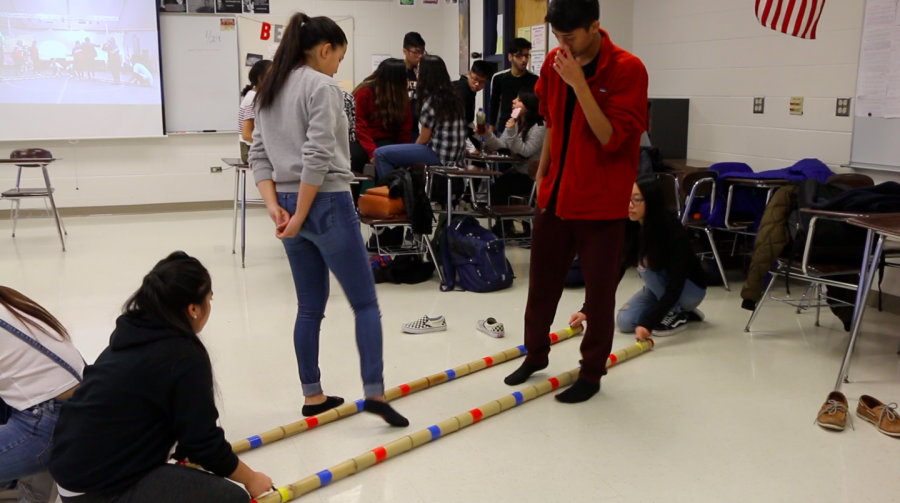 Editor's Note: This is the seventh in a series of International Week stories about ethnic clubs to highlight the diversity of Niles West.
International Week is something that all students enjoy, appreciate, and look forward to every year. The diversity at Niles West seems unreal at times, especially the fact that West boasts 20 different cultural clubs. Filipino Club is always a hit at International Night because of how hard they work throughout the year to make their performance successful.
So far, all thoughts have been on International Week since the start of the school year according to junior and club member Ria Bonjoc.
"We've been working on this really hard, since the beginning of the year," Bonjoc said. "It's really fun but also really painful. It's worth it though. We want to do really well, so that's why we're working so hard."
In previous years, Filipino Club has always performed two dances: one modern and one traditional. This year the members have decided to take a modern twist on a traditional dance.
"All we're doing is one dance this year, which is different than normal," senior Abigail Onat said. "It's kind of like a mix of traditional and modern and that's different from what we've done in the past. I don't really know how to even describe it."
At first, the dance was difficult for the members to learn, but as time has gone on, the once tricky moves have become much easier.
"It's not that difficult, but it comes to a lot easier with repetition," sophomore Gabe Reyes said. "We practice at least once a week for two hours. Sometimes we have extra practices too."
Many of the members are proud to be a part of the dance, as it gives them another way to immerse in the culture.
"So since I am Filipino, and this is a Filipino dance, I take it seriously to a degree," Reyes said. "Being Filipino is a really big part of my life, and I'm really happy that I am a part of this club."
Sponsor Sean Defilice is looking forward to the International Feast.
"I always enjoy the International Feast along with International Night. Generally we sell Filipino egg rolls, Lumpia, and probably some rice cakes."
Filipino Club meets after school every Monday in room 1210. Be sure to check them out as well as watch their International Night Performance on Fri., Feb. 9.