Last Day to Send a Crush to your Crush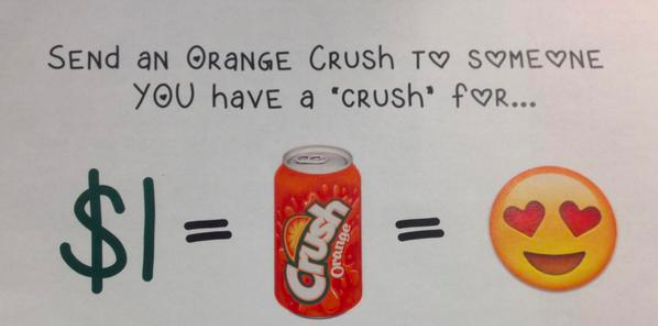 The month of love is upon us and the majority of Niles West is feeling a little lonely because most students are hanging on that single life. On the bright side, SADD club is doing their annual Send a Crush (soda) to your Crush (person) campaign. If you've been feeling low, you might feel better by sending out a Crush.
Due to the snow day on Fri. Feb. 9., SADD Club has extended the date to send a crush to Mon. Fri. 12. However, students must find Jessica Verceles in room 3215. Each Crush will cost a dollar and there is an option to leave a note, which can be anonymous. Students will receive their sodas on Valentine's day.
Verceles has been continuing the club for the past six years. The Crush sale has been going on since about 2010 and every year the sale makes a good profit and brings smiles to the clients as well as the people receiving the soda.
"We have the Send a Crush to your Crush campaign to encourage students at Niles West to have healthy relationships and spread positivity," Verceles said. "We pair this campaign with the Stall Street Journal on healthy relationships in the bathrooms and the poster campaign with pink posters on lockers with healthy relationship quotes such as Love Yourself."
Junior Austin Kessem likes the idea of the Crush sale and believes it should continue appearing yearly at West.
"I've never received a Crush from anyone or sent one out, but I think it's a good way to send a thank you or an anonymous note to someone saying that you are thankful for them. It shows that you care enough about them since you took the time out of your day to put a smile on someone's face," said Kessem.
Many students enjoy the happiness the sale brings upon the student body because emotional high school teens really dread being lonely on Valentine's day. Junior Mareena Gurguis has received a Crush and even sent one out to a friend.
"I got happy when I heard I was getting one because it's nice to know that someone is thinking about you to go take the time and send one," said Gurguis. "I like the idea of it because it's so cute and it makes me want to send one to all of my friends."