Echo Effect Wins Big Last Saturday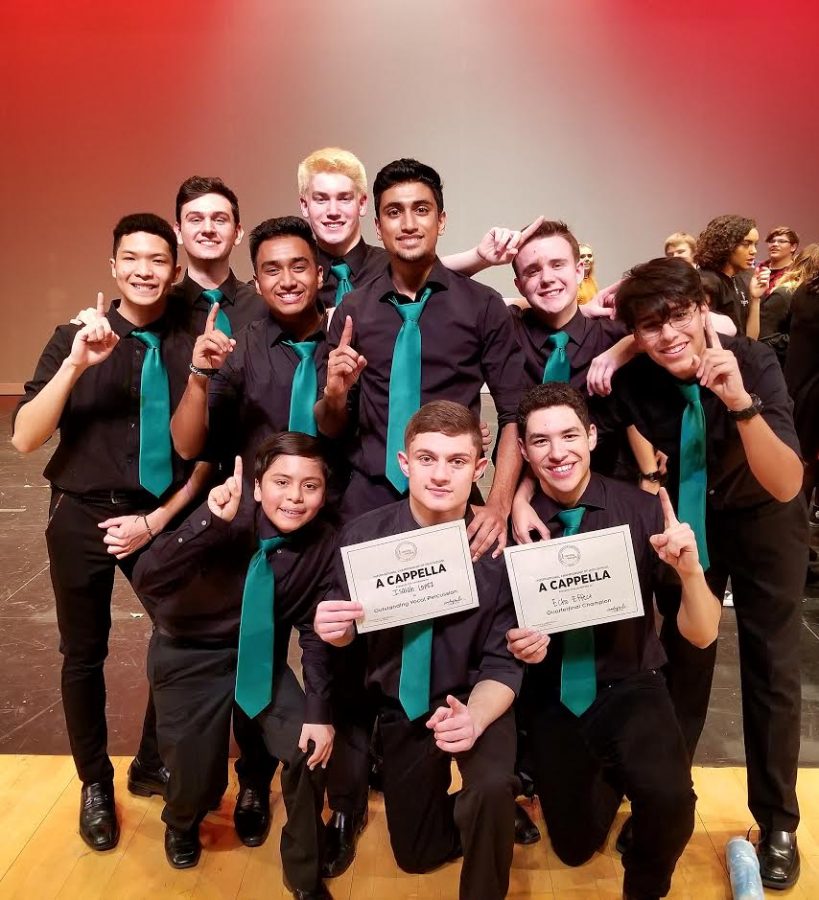 By Sarah Cohen, Staff Writer
February 8, 2018
"….The first place winners for the 2018 South Milwaukee Quarterfinals is Echo Effect," the announcer finally said after dragging it out for, at least, a long three minutes.
Last Saturday, February 3, Niles West's all male A Capella group, Echo Effect, competed for the tenth year in a row at the International Championship of High School A Capella (ICHSA) quarterfinals. The event was held in South Milwaukee, Wisconsin, and the boys competed against ten other schools. Competing schools ranged from experiences teams (like ours) to first-timers. 
Echo Effect is one of the three A Capella groups at Niles West consisting of eleven members and is directed by choir teacher Matthew Hunter. They performed three songs in their set: Human by Rag'n'Bone, a Pentatonix cover of If I Ever Fall In Love, and a mashup of Love Lockdown and Crazy.
"I'm very proud of them and I'm proud of the bond they have created as an all male a cappella group. Competing against multiple competitive schools, they've worked extremely hard to deserve this award," director of Echo Effect and choral teacher Matthew Hunter said.
Personally, this was one of the best and fun performances I've seen during all of my four years here at West. Each of the schools were different and unique from their song choices and arrangements to their choreography. There were some schools that made my jaw dropped because of their amazing vocals, but none of them had a performance that was as solid as Echo Effect.
"I think they did really well and had a huge improvement from their rehearsal a few days before. On Thursday, they had a soundcheck of their whole set and there was this drastic improvement from Thursday to Saturday," junior Leah Nano said. "I am so proud of them."
Like many performances, there's never just a perfect performance without some stress or some sort of problem right before. Living in the Midwest and being that it's January and February, vocalist were conflicted with constant weather changes and getting sick.
"The week before is always the most stressful, and just in luck for us, the night before was even more stressful. One member didn't end up showing up because he had the flu, so we had to re-choreograph the whole thing the night before at the hotel. It was extremely stressful, but it worked out," junior and co-president Kenan Ozer said.
The way they determine the order of performances is up to chance. One member from each of the groups unknowingly picks a number out of a bucket and whatever number they get is when they will go on stage. Echo Effect picked for last- the mindset going in was that this could either make or break their performance.
"At first, I was really nervous picking because it was my first time and I was worried to pick first. I didn't even realize that I'd pick last, but once I thought about it, it was the best feeling knowing that we'd be able to close the show. It's the most fun in my opinion," senior and co-president Anthony Saldaña said.
Rehearsing two times a week for two hours since the beginning of the year, the boys the week before rehearsed every single day for two and half hours to perfect their performance, and their hard work truly paid off. Their choreo was spot on and had some interesting, incredible moves. Each of the soloists performed amazingly well and their set went perfectly together. I'd give their performance a solid 11/10; it was a well deserved award.
"I thought the performance was good, but there's always room for improvement. We pulled that together in the last few hours with full seriousness and heavy focus, but we all now know that if we keep that mindset from now until semifinals, it'll be even better than before and we'll be one step closer to our full potential," Saldaña said.
During the duration of the judges deciding on the winners, they held a beatbox competition on stage with each vocal percussion member from each group. Senior Isaiah Lopez walked his way up in front of all the others, going last, and going confidently. He brought the mic to his mouth and demolished the stage and all his other competitors. Everyone, from the audience to the people on stage, knew that he had just won that competition. Lopez received an award for Outstanding Vocal Percussion from their set.
Echo Effect will be advancing to the ICHSA semifinals on March 10th, 7 pm at Dekalb High School. Tickets are on sale at here for $10, so make sure you go out and support them. The best of luck to them.