All-Conference Athlete Display Replaced with Two Touch Screen Monitors
Beginning about four weeks ago, major change swept West's hall of athletic honors as hundreds of framed portraits of all-conference athletes were taken down and replaced with two 55-inch touch screen monitors, which will now house the images. The change, which has been under discussion for over three years, was finally implemented this past January, and the monitors are now fully up and running.
The change mainly affects pictures displayed on the CSL All-conference wall; the Athletic Hall of Fame display case was left untouched, as was the "Niles West" lettered display and the display cases near the Contest Gym. The change itself was no easy feat, as it involved repainting the wall, removing the frames and filling holes left by the screws, and mounting the monitors, as well as rerouting the electrical work to bring power to the screens. A similar change will be implemented at Niles North in the coming months.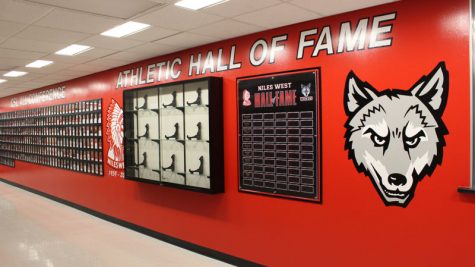 The transition to digitally displaying the pictures, a system that many high schools and colleges have switched to, came as a response to several issues faced by the athletic department, including lack of wall space and difficulty quickly updating the walls, a problem both D219 district schools faced.
Athletic Director Kendall Griffin believes that one of the most important problems the screens solve is that amount of available space to display pictures was quickly shrinking.
 "Instead of continuing to use wall space, which you eventually run out of, this was a much more simplified system and allows up to keep pictures instead of trying to find more wall space and more man hours," he explained.
According to Griffin, the change was both a logical and necessary step in solving another issue that arose with a lack of space, which was an inability to honor new athletes.
"We have all-state athletes that couldn't go in [the Niles West display] because we ran out of room," he explained. "So what were we supposed to do? If we wanted to honor current athletes, not the ones that were in the 50's and things like that, they wouldn't be able to get honored unless we started taking some of the older pictures out. These [displays] are great until you run out of space, and then what? What I thought, as athletic director, was that it's not right for those student athletes that were all-state to not be able to go on that wall because there's no more space, and I also didn't think it was right to take any of the people who were in there out to update it. So we had to come up with something, and this [digital solution] was the answer to that. Now we don't necessarily have to worry about it; we can add as many people as we want, and what's nice is [the screens] allow us to work with the 8to18 website, so you'll be able to see schedules, updates, and results for the different teams."
An external company scanned in all of the pictures that had been previously displayed. The athlete's name, sport they play, year, and all of their honors are included in the system. West will work with VIP, the company that handles all of West's professional photography, in order to download digital copies of all future photos, add them to the system and input all the necessary information. Users will be able to search for athletes by name, sport, year, and/or the particular honor they received.
According to Griffin, this method is a much easier and safer way to store and display the pictures.
"We have lost pictures in the past, and this way, the pictures are downloaded and housed into the system. There's a backup through the company, so those pictures in essence will never be lost," he said. "I also feel it'll be less of a burden on our buildings and ground staff and our athletic staff on trying to keep those things updated from year to year."
Despite clear advantages, the change received a mixed response by both students and staff at West. According to junior Lauren Brace, going digital diminishes the honor the athletes receive, and it also makes it more difficult to see all of the different athletes.
"I think it's a little dumb and not the best solution. I used to walk by [the wall] and see a lot of my friends and my brother and his classmates, and it was cool to be able to see everyone at once. Now you have to walk up and press buttons and look people up, and nobody really has the time or wants to do that," she said.
Senior Sarah Zasso was initially unhappy with the change, but after giving it a chance, she is more hopeful about the possible opportunities it presents to fully recognize each individual.
"When I first saw the TV screens, I thought they were unnecessary and a waste of money," she said. "However, my opinion completely changed after I actually used the screen to find my brother Alex's picture along with all of the titles he won. I witnessed how hard my brother trained for cross country all throughout high school, so it makes me really happy to see proof of his legacy all of these years later. The athletes at this school work incredibly hard, and these TV screens are a way to remember and honor all of their hard work for years to come."
Griffin addressed the doubts of many students and student athletes, acknowledging that the screens may take some getting used to.
"I would say to those student athletes [who think it's less personal] that like anything, change is hard for some people because this is what they've always seen," he said. "So I would say wait and see what this looks like. Anything new is going to take adjustment, but I think going forward, people will see this no different than what we had. As far as whether it's more or less personal, to me a picture's a picture. Primarily what made me know that this was where we needed to go was when we stopped having room to put pictures up there, we had to take pictures down, which just wasn't right."
With the removal of the all-conference athletes' framed pictures, wall space has opened up, and possible uses for this newly freed space are being discussed. According to Griffin, Director of Physical Welfare Joaquin Stephenson has some ideas for the space, including the possible installment of another PE schedule display screen in addition to the two already mounted near the gym, or for other uses by the PE department.
"Now, that wall is completely bare," Griffin said. "So there's a lot of room to do some different things with it if we wanted to."
Loading ...