Hungry Like the Wolf: Chicken Pot Pie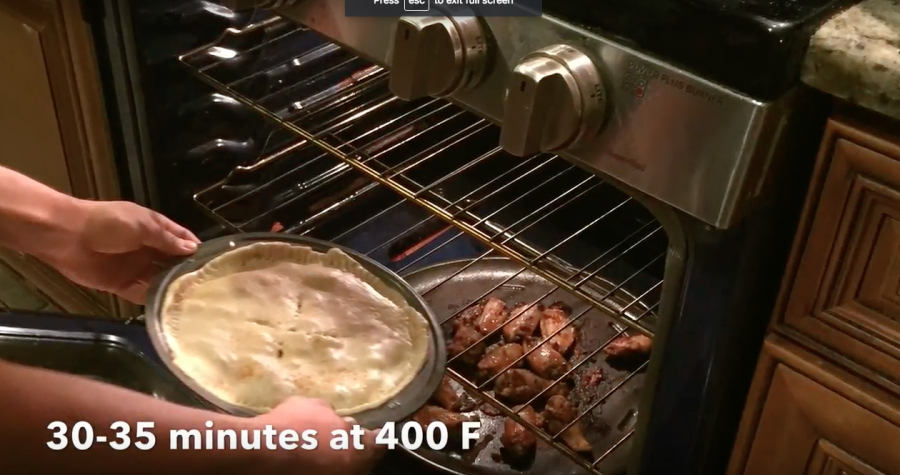 Pi day celebrates the never-ending numerical value of pi each year on this day, March 14. And what better way to celebrate pi than with pie.
Chicken pot pie might seem intimidating, but that's only because of the many ingredients used for the filling. I traditionally stick with potatoes, corn, peas, onions, celery, and carrots, but you could also add broccoli, mushrooms, or whatever you would like. Here's my recipe for a hearty American classic.
Chicken Pot Pie
1 yellow onion, minced
1 stalk celery, diced
1 carrot, diced
1 1/2 potatoes, diced
1/2 cup peas
1/2 cup shucked corn
2 cups chicken broth
1 chicken breast
1/2 teaspoon paprika
1/2 teaspoon thyme
3 tablespoons unsalted butter
3 tablespoons all-purpose flour
1 egg
salt and pepper to taste
Pie Crust
2 1/2 cups all-purpose flour
1 cup (2 sticks) chilled, unsalted butter, cut into cubes
1/4 teaspoon salt
6 Tablespoons ice cold water
1. In a mixing bowl, add flour and chilled cubes of butter. It's important the butter is really cold in order to make the dough flaky when it comes out of the oven. Add the salt to the bowl and cut-in with a pastry blender or food processor.
2. Once the butter is cut into the flour and resembles coarse crumbs when you hold it, gradually add one tablespoon of the ice water at a time until a dough ball forms. Divide into two equal balls, wrap them in plastic wrap, and chill dough for at least one hour before resuming.
3. Preheat your oven to 400 degrees. In a saucepan, bring three cups of water or broth to a boil. Poach chicken breast in the boiling water until cooked completely. Save two cups of the flavored broth for later and dice the cooked chicken breast.
4. In a wide sauté pan, melt butter and cook onion, celery, and carrots over medium-high heat. Once they begin to soften, add the potatoes and flour, and stir until the flour cooks away. This will act as a thickener for the filling.
5. Add the chicken broth while vigorously stirring the vegetables. Add remaining vegetables — corn and peas — and chicken. Season filling with thyme, paprika, salt, and pepper. Bring to a boil, add a splash of heavy whipping cream, cook for ten more minutes, and set aside.
6. Lightly flour a work surface and roll out one of the balls of dough to 1/4 inch thickness. Cover the bottom of a 9-inch pie pan with the rolled dough, snipping off the excess. Pour filling into the prepared dish, roll out second dough ball into the same thickness, and roll over the top of the dish, tucking in the sides and snipping off any excess dough around the edges.
7. Cut out an X or make a hole on the top of your pie so it can ventilate while baking. Brush with beaten egg wash and bake for 30-35 minutes or until the crust is golden brown.
Now you're ready to enjoy your delicious chicken pot pie all while contemplating the infinite number of digits in everyone's favorite mathematical principle. Happy Pi Day!