Open Studio: A Unifying Workplace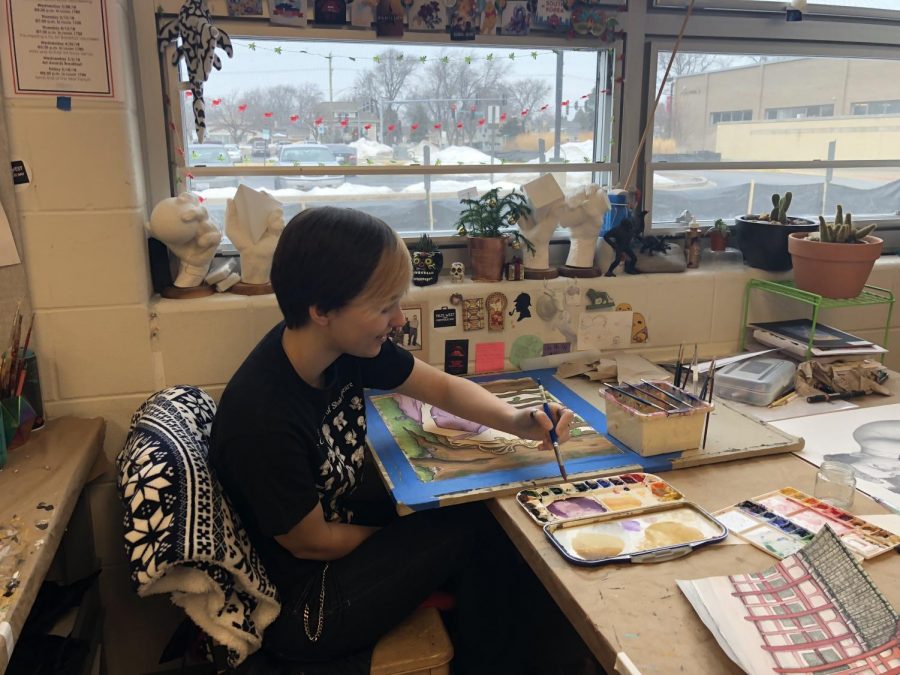 Art is a unifying factor all over the world, and Niles West is no exception. Various art classes are offered here for students, varying from digital media to drawing and painting.
Art is a discipline that takes time and effort, and Open Studio provides students with an area and time to build on their skills, and complete their art.
"Open Studio is a designated time for students who are currently enrolled in visual arts courses to get a little bit of extra studio time, extra help with their work, and potentially interact with students who are in different classes with different curriculums that they aren't familiar with. It gives them the chance to meet new people," sponsor and art teacher John Zilewicz said. "I decided to sponsor this club because I realized that many students don't have a dedicated space to work on their art at home. These students deserve an hour or an hour and a half that they can dedicate to their work."
Open Studio is an environment where students who are interested in and involved with art come to work on their projects.
"I started to come to Open Studio my sophomore year when I got involved with art," senior Nicole Cwiok said. "It's a very open studio with both a carefree and hardworking environment. You meet a lot of new people, and it's interesting to see everyone else's work."
Going to Open Studio is a perfect way for students who have similar interests to meet. Many students also gather inspiration from all the work surrounding them.
"Everyone at Open Studio is working on something different, and you can even get up and observe the different art around you," Cwiok said. "Another good thing about Open Studio is that anyone can come, you don't have to be in an art class. It provides a space and a time to get help on your art, and it eventually becomes something you interact with."
Open Studio is a perfect opportunity for improving your skills as an artist. There are many resources around to provide help and guidance when working on tough pieces or assignments.
"I usually work on my art for my AP studio class and I get help from Mr. Z or even another student if I need to," senior Christine Lee said. "Open Studio has allowed me to get my artwork done and helps me to progress further in the pieces that I work on. I'm grateful to Open Studio because I get more time and more supplies to finish the work that I started."
Open Studio meets every other Wednesday in room 1780. If art is something that interests you and you need a space to do your work and some guidance, then Open Studio is for you.