Rapper on the Rise: Adam Barela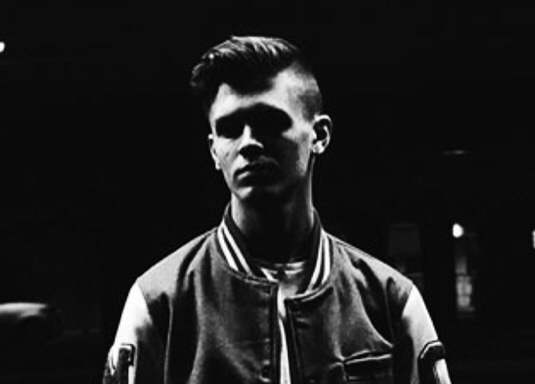 Teenagers across America dream of making it big in the music industry and add their own style to the versatile music community. Senior Adam Barela is one of the many kids who put hours of work into creating his own music and has gained recognition on multiple platforms, including SoundCloud and iTunes.
At home, Barela has a studio with four huge column speakers, three guitars, two drum sets, two keyboards, mixers, microphones, synthesizers, oscillators, amplifiers, accordions, concert lights, and a whole room full of cables. Anything you can think of that's needed for music, he already has at home. 
"Growing up, I was surrounded by music. My dad has his own band as a side job and has been doing it for more than 20 years," Barela said. "Living in a music-filled house, my dad would spend countless hours practicing downstairs while the upstairs floor shook from all the bass. I'd always find myself tapping my foot along with the trembles of the house. I'd stay in my room and hear these rhythms on repeat for hours a day." 
Barela first started to tap into making beats and songs while he was grounded. With no phone and having been banned from hanging out with his friends, Barela spent countless hours in his room working on music until he was completely satisfied with the work he made.
"He would spend most of his weekends in his room editing his verses, creating beats, and revising his songs, which at one point ticked the [friend] group off a little. He has put in a ton of time and money into his passion, which I really admire, and I truly think he can turn into something big," friend and senior Arturo Gutiu said.
Personally, Barela prefers releasing songs instead of albums. He believes that if you ask someone to listen to a song, they'll take more time on that one song than they would to look through an entire album.
His friends who have been with him through his musical journey believe in him immensely and know he's going to go somewhere in life with his music career.
"He'll make a beat from nothing and record on it. He'll even edit it himself. It's so much harder than people think to make every little detail in a song have an effect, and Adam knows how to do it all. Honestly, if he doesn't give up on it, I know he'll go somewhere with the music industry," friend and senior Eddie Hagopian said.
Adam sells his beats on the side ranging from $10-$300, and you can find his music on iTunes, Spotify, SoundCloud, and Google Play.  He also has his own website- ADAS– where he interacts with fans and promotes his new singles. Barela tries to drop a song every Friday, and with new songs on the way, he's more excited than ever about his music career.