Annual College Fair to be Held Tuesday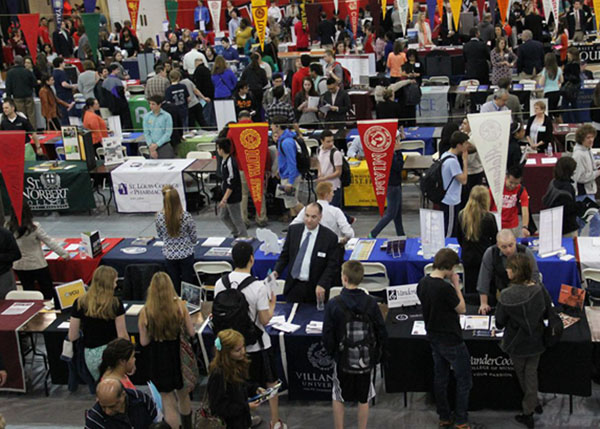 Hang on for a minute...we're trying to find some more stories you might like.
The annual District 219 college fair is scheduled for this Tues., Mar. 20, and will be held throughout the gym, lunchroom, and halls of Niles West. The fair will feature approximately 250 colleges from all across the country, with a few international schools in addition.
College and career counselor Daniel Gin promotes the event as a time for students to learn more about the different types of colleges and plan their post-high school careers.
"By attending the college fair,  students will learn about a lot of colleges in a short period of time. It is important that the students prepare by going through the post-high school planning guide that was distributed to all sophomores and juniors in homeroom. In addition, [students should] register for the fair on the strivefair website," Gin said.
Strive Scan allows for students to easily register for colleges' databases, helping to connect students to schools they're interested in. Students can register their barcode for the fair on the strivefair website by selecting the Niles West option.
Senior Michael Rohn, who has attended the event in past years, believes College Fair was helpful to the college application process by lessening the stress that comes along with it.
"I went because I wanted to be less up in the air about the college process, and to be more focused and start the college admissions process stress-free," Rohn said.
Junior Kathy Trieu hopes the event will help her decide what sort of college she wants to attend.
"I'm going to see all the different colleges. Since I don't know where I'm going to go yet, it's good to see every possibility and get in contact, so if I do find a school that I like, I have that immediate connection with them," Trieu said.