Niles West Theatre to Present The House of Blue Leaves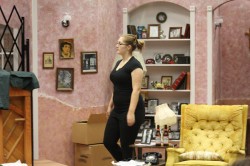 Niles West Theatre will be putting on its first play of the season, The House of Blue Leaves, Thursday, Sept. 22 through Saturday, Sept. 25 in the Black Box Theatre.
The setting is Queens in 1965 on the day Pope Paul VI visits New York City. A local zookeeper named Artie Shaughnessy, played by senior Quinn Lawson-Hall, dreams of becoming famous while his wife Bananas, played by senior Rachel Prale, suffers with mental illness.
Theatre director Andrew Sinclair said he feels that The House of Blue Leaves is a good choice to start the season with.
"[The House of Blue Leaves] is a good introduction to our season. This year our theme is the reality of dreams," Sinclair says.
The play is scheduled to begin on Thursday, Sept. 22 at 10 a.m., a free community performance.  The House of Blue Leaves will continue with its run on Friday, Sept. 23 at both 4 and 7:30 p.m., and on Saturday, Sept. 24 at 4 and 7:30 p.m. Tickets for adults costs $10 and for students, senior citizens, and children the price is $5.
"[The play] is a dark comedy, almost farcical…. every character is trying to become bigger than what they are… It speaks for today,[as well]," Sinclair says.
Stage Manager and senior Katie Buckley said the play will incite the audience with multiple emotions.
"Although hilarious, this play also offers something to people who appreciate action and drama. The mere strangeness of this show will make people laugh, and maybe even cry," Buckley says.
Junior Aria Caldwell, who plays Artie's mistress, Bunny Flingus, said people should attend The House of Blue Leaves.
"It's a dark comedy, so you will find humor in things you normally wouldn't," Caldwell says.