A Gymnast's World: Jasmine Dirks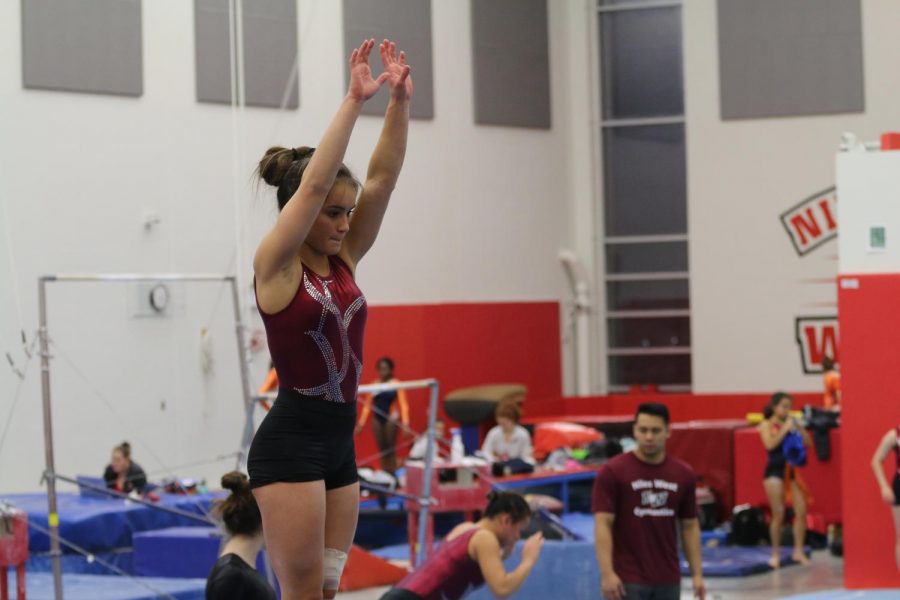 Flipping on bars, warming up on the floor, and chalking up her grips are a few ways junior Jasmine Dirks prepares herself for gymnastic meets. Already having captured the attention of many, Dirks's continuous work ethic and development are evident through her various athletic accomplishments. From the age of four to now, Dirks's love for the sport has never wavered.
Growing up, Dirks loved being outside and staying active. Whether she was playing with her brother or mingling with the neighborhood kids, she was never idle. Gymnastics soon became the activity that always kept her busy.
"I started gymnastics when I was really young. My parents put me into the sport to give it a try, and I just stuck with it. Now being older and continuing on, I love it. With gymnastics being such a difficult sport, over the years I've learned that no matter how hard things get, you can't give up, and you have to keep trying to get the results you want," Dirks said.
Through countless practices and meets, Dirks's love for gymnastics only grew. Participating in such a demanding sport allows Dirks to showcase her experience and strengths when in competition.
"My favorite part of gymnastics is trying new skills and the excitement of being able to compete what I learned in practice. While competing, one of my strengths is the confidence I have in myself. Being confident in my ability helps make my routines as clean as possible and seem effortless," Dirks said.
Dirks has been in the gymnastics program at Niles West since her freshmen year. Her teammate and friend, junior Kassandra Marin, has witnessed Dirks's growth and admires her dedication.
"Jasmine is such a great gymnast. Her strength and pain tolerance are very high, and you need an incredible amount of that; not all gymnasts have that," Marin said. "One of the biggest things she's taught me is to always push myself further. She helped me realize that I am capable of so much more if I just step out of my comfort zone."
Dirks is known for her athletic achievements — from going downstate as a freshman to winning athletic competitions throughout the community. For individuals who interact with her on a day-to-day basis, her character is just as valuable to them as her athletic ability.
"Jasmine and I have a really good friendship. Since freshmen year, we have become really close. We spend a lot of time together both in and outside of the gym. In the gym, we motivate each other to be better, and we constantly push each other. We have made so many memories together, and I love continuously making more," Marin said.
The continuous work-ethic Dirks displays in the gym doesn't go unnoticed. Girls varsity gymnastics coach Susan Arcus praises Dirks's dedication to the program.
"Her determination separates her from so many. She does not like to lose and is very competitive. When she knows that something is attainable, it makes her insane. She just has a terrific drive that a lot of other people don't have. Aside from her motivation, she is so naturally talented that she can achieve anything, which is exciting," Arcus said.
With Dirks's devotion to making herself better and putting in endless hours in the gym, Arcus has quickly developed an admiration for the young woman Dirks has become.
"We absolutely love Jas. She's a character in so many ways. She's just an amazing kid to have on the team. She's super fun as a person, knows how to laugh at herself, knows how to take herself seriously, and that's exactly the kind of kid that you want to coach," Arcus said. "Jasmine sets goals and really works to achieve them. That's a dream that every coach wants."
From hours of working out to bonding with her team, Dirks always finds a way to grow as an athlete and person day-in and day-out. With her love for the sport and a bright future ahead, Dirks's possibilities are limitless.