2018 Illinois Primaries: The Good, the Bad, and the Ugly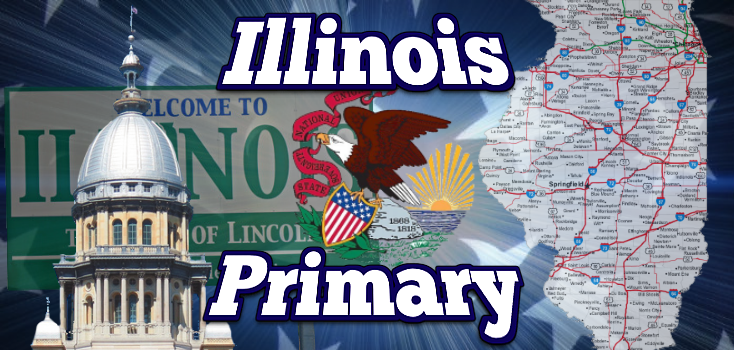 On Tues., March 20th, Democratic and Republican voters marched to the polls to select the nominees for various statewide positions and congressional representatives. The biggest race was the Democratic gubernatorial primary, with the front-runner J.B Pritzker winning the nomination. The Republican primary saw incumbent governor Bruce Rauner winning his primary, fending off challenger Jeanne Ives. There were a variety of other races that have both local and national implications, some positive, some negative, and some just ugly.
The Good
The Illinois Attorney General primaries for both parties went extremely well, with both candidates providing an excellent choice. Democrat Kwame Raoul, an attorney who was tapped to fill in Obama's state Senate vacancy in 2004, won his party's nomination, and Republican Erika Harold, 2003 Miss America winner and Harvard Law School graduate, is her party's nominee. If elected, Harold would be the first African-American woman to hold the post of Illinois Attorney General.
Besides who's getting in, there's also some who are thankfully leaving. Incumbent Democrat Joe Berrios, known for a variety of scandals, lost his nomination to career finical organizer Fritz Kaegi. Berrios is often considered one of the last of the old Illinois Democratic Machine, and his departure will hopefully put Illinois on a new path towards more devoted and honest elected officials.
Additionally, the Illinois Senate's 8th district Democrat Ira Silverstein lost reelection in his primary by political newcomer Ram Villivalam. Silverstein recently came under fire for inappropriate messages he sent to a victims rights advocate. It was found that his conduct was not criminal, but was unbecoming of a legislator. Regardless, his conduct was completely inappropriate for an elected official and was deservedly voted out of his primary.
Senior Darby Chamness, a constituent of Silverstein, is happy to see him voted out of office.
"I am proud that Ira Silverstein was voted out of office, and I wish Ram the best of luck. The primary really shows that if the government tolerates inappropriate behavior, the public will not," Chamness said.
The Bad
Thankfully, there wasn't too much "bad" in these primaries, however, there was a result that may have an adverse effect on future elections.
Despite my support for J.B Pritzker, money in the gubernatorial race may become an issue not only for this election but for future elections as well. With Pritzker's net worth standing at roughly 3.4 billion and Rauner's standing at roughly 1 billion, this election is predicted to be the most expensive gubernatorial race in United States history.
The problem? Setting a precedent. If we keep electing a wealthy person to combat another wealthy person, it could lead to candidates with less personal financial backing yet strong ideas being thrown to the curb.
Some students are worried the connection between wealth and politics will only grow in the future and could be a problem in future elections.
"Money in politics is a threat to our democracy. Anyone with enough money can donate an inordinate amount of money to a candidate to garner favors with them while in office, and it's been getting worse," sophomore Sarah Waters said. "Regardless of your political alignment, the candidate representing you in this gubernatorial election is a billionaire. It's as if no one has a choice or a chance against the extremely wealthy. In the future, I definitely foresee a large turnout against money in politics, but unfortunately, awareness of the problem is low now."
The Ugly 
A pro-life Democrat, an anti-bullying advocate, and a former American Nazi party leader. The Third Illinois Congressional District had a rather weird, yet intense, candidate selection.
Blue dog conservative Democratic Dan Lipinski is an anomaly in his party. He voted against the Affordable Care Act and DREAM Act, while supporting the Defense of Marriage Act. This led his challenger Marie Newman, a businesswoman and progressive activist, to contest Lipinski. Newman claims Lipinski agrees with Trump on too many issues and won't take a stand against him, while Lipinski argued he's a bipartisan, centrist candidate willing to work with anyone.
Lipinski was the ultimate victor, coming in at around 51%, compared to his competitors 49%, which translates to only about a 2000 vote difference. The significance of the primary isn't necessarily that it was close, but that there was an obvious split between two visions of the Democratic Party: one being those that believe the party should only support progressive politicians such as Newman, and then there's those that support a big tent party with a range of views.
In addition, Lipinski will essentially have no contest since the Republican candidate for the district is Arthur Jones, a former American Nazi Party leader and holocaust denier. He ran unopposed for the nomination, even with the best efforts of the GOP to find a candidate to run against him. The GOP previously denounced his candidacy in 2016 and did so again. The increasingly liberal district will clearly stay away from Jones and vote Lipinksi in for another term.
Social studies teacher Melanie Johnson discusses the possible national repercussions of the race for both Democrats and Republicans.
"National Democrats would not endorse him, Jan Schakowsky came out and supported the other person. Part of the reason a lot of people didn't like him is that he is a conservative Democrat, he's pro-life. NARAL, Planned Parenthood, and Emily's List all endorsed his opponent, Marie Newman," Johnson said. "To me, it's more evidence that this so called blue wave people are talking about is coming, meaning in the 2018 midterms a lot of Republicans are going to lose their seats. A lot more people went out and voted for Democrats in the primaries compared to Republicans. It's sort of a referendum on Trump."
A complete list of the primary results can be found here.